* This was a very big rumor over the weekend…
"I said, 'I heard on the scanners that we have hundreds of people, caravans, driving in from Indiana and other places to come and terrorize our city,'" [Ald. Ray Lopez, 15th] said.

"She rebuffed that. … She said, 'I'm dealing with issues. That's an unsubstantiated rumor. You can chase that if you want, Ray.'"
Lopez wasn't the only alderman spreading that rumor. But we have so far seen zero evidence of that actually happening. Crazy rumors circulate during crises. Responsible leaders refrain from spreading them. And just because you hear somebody say something on a police radio doesn't mean it's true.
* And then there's this lone clown…
A man from downstate Galesburg who allegedly appears on video rioting, looting and urging attacks against the police has been hit with what appears to be the first federal criminal charge related to the violence this weekend in Chicago.

Matthew Lee Rupert, 28, has been charged in an eight-page criminal complaint in federal court in Minnesota with civil disorder, carrying on a riot and possession of unregistered destructive devices. The complaint alleges Rupert participated in looting and rioting in Minneapolis in response to the police killing of George Floyd before moving on to Chicago.
He was posting Facebook videos as he was committing crimes. Not the brightest porch light on the block. From his now disabled Facebook page…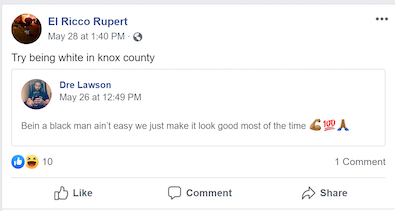 * Anyway, Sheriff Tom Dart wasn't sure what and who were behind the looting and violence…
But they were less certain who was behind what Dart described as an effort to "utilize … the peaceful protesters for their own criminal acts." […]

"There's definitely organization [to the looting] but as far as the overarching organization, that's being looked at," the sheriff said.
Civil unrest is often accompanied by looting. But to some, Sunday's looting looked somehow organized.
* I thought ISP Director Brendan Kelly had some interesting things to say yesterday…
We've seen looting, we've seen thefts we've seen criminal damage and we've seen arsons throughout the state. And again, there's not one particular location or one particular community in which this is entirely focused on. Sometimes, we are very quick to say there's a hotspot here or a hotspot there.

But frankly, the information that we've been receiving and how this process has evolved over the past 24 hours, 48 hours, 72 hours, has been that we have seen a number of individuals who are between the ages of 17 to 25, young people, communicating with one another on social media, targeting a particular business, particular retail, saying 'let's meet at this location at this time.' And once they reach a critical mass of people they find a way to break the windows, either using rocks or a hammer or picking up trash can or more locations with a bicycle breaking those windows, going into the business then taking as much property as they can. In some cases, there's some indication that maybe they've attempted to set fires in some locations. […]

We are in close communication with our federal partners at all times. The information we have consistently received from them and that we've been providing to them, is it does not appear to be yet, any indication of an organized structured group that is driving a critical mass of these incidents.

In large part, these are, as described at that particular age group of people, seeing a pattern and practice that they're modeling after what they've seen on social media. There are people who are traveling around different communities. They're maybe not from that community, they come from different parts of the state. They are driving in their vehicles, sometimes hanging outside their vehicles, waving signs, making gestures. We've seen people with bats and other types of items that are potential weapons, driving around and voicing their opinion with regards to law enforcement. But then some of these individuals committing the type of acts that we've been that we're describing here that have resulted in looting, have resulted in criminal damage to property, theft and the type of activity we've seen play out and Champaign, Aurora and other locations.
So, at least some of them organized themselves on social media (Facebook groups are a good bet) and met up physically and waited until their numbers reached a "critical mass" and then acted. Safety in numbers, so to speak.
* The Walmart on 83rd St. in Chicago was hit by dozens of looters on Sunday. A buddy of mine was there when the looters suddenly swarmed in. I asked how many people he saw…
Swamped. 4-6 people in each car. Just pulling into the parking lot. Running in then running out.
* Some police forces observed the behavior and learned what to expect. Monday night in Bloomington…
Police used different tactics on the second night of unrest. On the first night, officers concentrated forces at the entrances to stores such as Best Buy and Target. During the second iteration of the challenge from the looters, police leadership spread out units to block entry to parking lots and prevent the vandals from concentrating in swarms of vehicles.
* On the other side of town later that night…
These Chicago rioters are on 1000 rn. They have broke into almost every shop on north ave. People are stopping in the middle of the street to get out of their cars and loot. pic.twitter.com/VZWi2Wf1Kr

— FIAT🐋 (@Dinkouss) June 1, 2020
Looked like a smorgasbord.
56 Comments







































































































































































Sorry, comments for this post are now closed.