* Press release…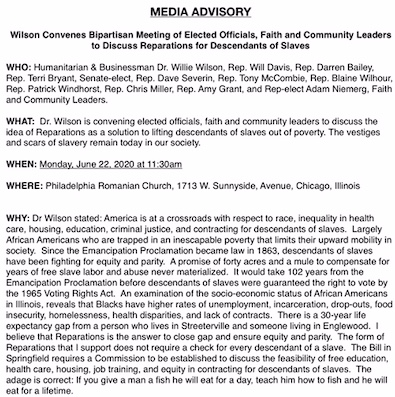 * Rep. Darren Bailey's remarks…
I'm a farmer about four hours south of here and a first term representative. And as a farmer, when things don't work right you have to take a look at everything, try to determine what the problem is. And sometimes you've got to listen to the advice and and take other people's ideas into consideration. And Dr. Wilson about two weeks ago, he called me up and he drove four hours south to Lewisville Illinois and sat with several area representatives to talk and share his ideas to this problem, this crisis that we're experiencing. I don't know the answer. I don't know that I completely agree with some of the solutions and ideas that I've heard.

But one thing I do know, the one thing that I've discovered with government is that people don't listen very well. A lot of people want to strive with their ideas, a lot of people want to push their agendas. So we are here today to listen, to simply to listen to an idea, and consider and certainly pray for an outcome. I'm so honored that we can be here with the church today, it's the church that's going to make the difference in this state and in this country and I'm so honored, of all places, to be here.
Listening has never been Bailey's strong suit, of course.
* By the way, I asked Dr. Wilson's spokesperson for comment on this Bailey statement from the other day and never heard back…
Rep. Darren Bailey (R-Xenia) is questioning the Black Lives Matter movement based on that fact that a disproportional rate of pregnancies for black women end in abortion.

"If black lives matter, why are Illinois taxpayers funding the killing of unborn black babies?" asked Bailey, the first term 109th District representative and recent winner of a personal lawsuit against Gov J.B. Pritzker.
*** UPDATE *** I didn't even think to check, but a commenter pointed out that Wilson contributed $3,000 each to Reps. Darren Bailey and Blaine Wilhour and House candidate Adam Niemerg (who's running in Bailey's district) this month.
23 Comments




































































Sorry, comments for this post are now closed.