* Brad Weisenstein at the Center Square…
Putting things on "automatic" just makes life so much easier in Illinois, at least for the state's leaders.

No need to make politically unpopular decisions, because that state gasoline tax automatically goes up on July 1. Same for lawmakers giving themselves $1,800 raises while being able to claim: "We didn't vote for those. They were automatic."

And so it is for Gov. J.B. Pritzker. He doesn't need any courage to face the state's biggest government worker union and speak the truth about COVID-19 shutdowns blowing a $6 billion hole in the state's revenues. On July 1 there will be $261 million in raises going to members of the American Federation of State, County and Municipal Employees Council 31, automatically.

Nearly 1 in 4 Illinoisans is out of a job. Many are still fighting the state's Rube Goldberg machine of an unemployment system to get the federal money they were promised.

So how fair is it that some of the highest-paid state employees in the nation are getting a raise that must be funded by an economically wounded bunch of taxpayers?

Pritzker dismissed the idea of delaying the state worker raises: "That's not something that we're currently having discussions about," he said in late April.

But other governors, and specifically other Democratic governors, have taken action to preserve scarce cash as they deal with extra costs and crumbling tax bases thanks to the pandemic.

Washington Gov. Jay Inslee is canceling a 3% pay hike for some state employees and forcing one-day-a-week furloughs on 40,000 others to handle a nearly $9 billion shortfall.

New York Gov. Andrew Cuomo delayed raises for 80,000 state workers for 90 days, and is now considering employee buyouts. Virginia Gov. Ralph Northam pushed back state worker raises, and Pennsylvania Gov. Tom Wolf stopped paying 9,000 state workers on April 11.
1) Illinois didn't previously index its Motor Fuel Tax to inflation and as a result the revenues lost half their value.
2) The budget didn't include legislator pay raises and the comptroller won't pay them.
3) For the umpteenth time, the Illinois governor cannot unilaterally delay pay raises for unionized workers.
4) Washington Gov. Inslee's press release reveals that he did cancel some pay raises for exempt employees, but the vast majority of raises (mostly union workers) will proceed. It's still worth considering here, but that's a drop in the bucket.
5) Washington's furloughs were not unilaterally forced on unionized workers. Gov. Inslee negotiated with the union and 95 percent of members voted to accept the plan. Why would workers do such a thing? Because state employees will actually make more money from the furloughs. Unlike Illinois, Washington has implemented a shared work program. The state shifted costs to its unemployment system. Check this out…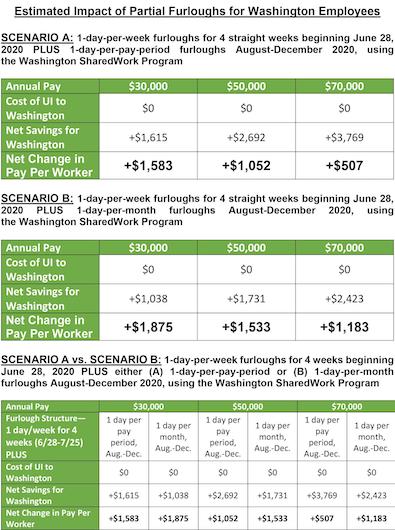 Heh.
6) New York merely delayed the pay raises. The largest union representing workers apparently has contract language allowing for freezes in extraordinary circumstances. The freeze reportedly won't apply to the second-largest union, which has 56,000 members.
7) Is the Center Square praising a proposal to prematurely dump active state workers into the already over-burdened state pension system? Looks like it.
8) Virginia doesn't have much of a state employees' union. The legislature approved raises before the virus hit, but the governor doesn't have to spend all the money.
9) Pennsylvania's governor did, indeed lay off 9,000 state workers who were not essential or weren't telecommuting. They were able to use their paid leave and kept their health insurance.
* Again, there are most certainly budget reductions that should be on the table in Illinois. But after nearly two decades of state operational reductions and those two horrible years without a state budget, there ain't a whole lot of maneuvering room.
* Related…
* 'Everything is on the table,' Cook County board President Toni Preckwinkle warns as 2021 budget gap forecasted to be largest in a decade

* Cook County Finances In The Red Due To COVID-19 Pandemic; Layoffs, Tax Hike Possible
20 Comments



























































Sorry, comments for this post are now closed.