* I kid you not…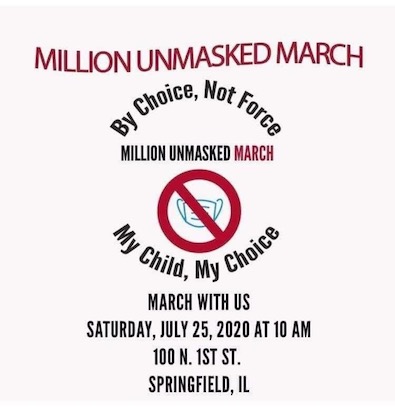 I gotta think they're setting attendance expectations just a tad high.
…Adding… Financial Times…
A national face mask mandate could act as a substitute to renewed lockdowns that would otherwise deduct about 5 per cent from gross domestic product, Goldman Sachs analysts argue as a number of states in the US have paused or reversed easing measures in response to growth in coronavirus cases.

"We find that face masks are associated with significantly better coronavirus outcomes," according to Jan Hatzius, economist at Goldman Sachs. "Our baseline estimate is that a national mandate could raise the percentage of people who wear masks by 15 percentage points and cut the daily growth rate of confirmed cases by 1.0pp to 0.6 per cent."

Goldman said it analysed the impact of face mask mandates in 20 American states and the District of Columbia between April 8 and June 24 and data on mask usage from YouGov and found that they raise the percentage of people who "always" or "frequently" wear masks by around 25pp in the 30 days after the order is signed. They estimate that a national mask mandate would increase usage by "statistically significant and economically large amounts" in states that currently do not require it.

Despite the rise in coronavirus cases mask usage remains a political issue in the US and is voluntary in a number of states. Goldman found that mask usage is highest in the Northeast, which was particularly hard hit by the pandemic, but where conditions have now improved, while the numbers are far lower in the south.

Arizona, Texas and Florida, which were among the first states to reopen and have seen a jump in coronavirus cases in recent weeks, have all reversed easing measures. Indeed, Goldman Sachs analysis found that reopenings have been delayed or reversed for about 40 per cent of the US population, which has raised fears about fresh lockdowns.
*** UPDATE *** WICS TV…
Guest speakers include:

• Grundy County States Attorney Jason Helland
• Illinois State Representative Darren Bailey
• Constitutional Lawyer Thomas Devore
• Teacher Tonya Sneed
• Parkview Christian Academy Board President Jed Davis
• Event organizers Dawn Gregory, Kayla Brooks Null and Michael Rebresh
Helland was clobbered by Secretary of State Jesse White in 2018. He's been a regular at these rallies.
72 Comments























































































































































































































Sorry, comments for this post are now closed.