* By Cole Lauterbach at the Center Square…
Illinois manufacturers reported layoffs, supply chain disruptions, and closures from the COVID-19 pandemic, however, most are rebounding, according to a new poll.

The Federal Reserve Bank of Chicago's Survey of Business Conditions interviewed hundreds of manufacturers in Illinois and Michigan between May 20 and June 5.

Many manufacturers were deemed essential through the spring closure orders, with some ramping up production of pandemic-fighting products. Others, including auto manufacturers, closed temporarily. Nearly all respondents to the survey reported revenue losses.

Seventy percent of respondents said their facilities never shut down during the pandemic. Of those that did halt operations, 28 percent said the closure was temporary. Another two percent said they closed for good. […]

Three of every four manufacturers expect the economy to feel the effects of COVID-19 until the end of 2021.

The Fed took a similar poll of small businesses in Illinois and several states in May that showed a much more bleak picture for other sectors.
The survey is here.
* Here's another question: When do you think U.S. economic activity will return to where it was before the coronavirus outbreak?…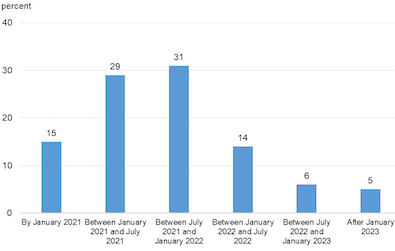 19 Comments
























































Sorry, comments for this post are now closed.