Rep. Darren Bailey's court battle against Gov. JB Pritzker will return to Clay County Thursday afternoon.

The Xenia Republican is cutting his Florida vacation short to make it back to court. However, Bailey's spokesman says he won't get tested for COVID-19 "on the advice of his doctor." Jose Durbin explained Bailey has no symptoms and stayed in Florida less than 48 hours. Bailey's Attorney, Tom DeVore, says he won't get tested either. "I'm feeling fine and don't see a need for a test."
Is he being advised by Dr. Kevorkian?
* And the local GOP is throwing an indoors party…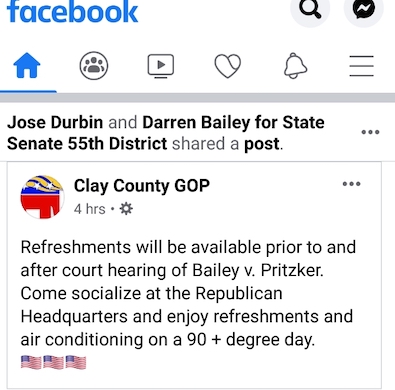 A theory is going around that some of these southern/southwestern outbreaks could be due to people going back inside to recreate in order to escape the heat outside.
* Related…
* Florida shatters records with over 10,000 new COVID-19 cases in single day: In June, Florida infections rose by 168% or over 95,000 new cases. The percent of tests coming back positive has skyrocketed to 15% from 4% at the end of May. Florida, with 21 million residents, has reported more new daily coronavirus cases than any European country had at the height of their outbreaks.

* Pence To Visit Tampa As Florida COVID-19 Cases Surge

* Florida's COVID-19 cases have exploded since DeSantis OK'd reopening plan: Since the governor made the announcement on June 3 that bars, movie theaters, bowling alleys, arcades and auditoriums could begin to reopen at 50-percent capacity indoors with strict sanitation and social distancing guidelines in place – and full capacity outdoors – Florida's COVID-19 numbers have skyrocketed, with a four-digit increase every day except one, which fell just shy of the 1,000 mark.

* Covid-19 Cases Hit Record at Florida Long-Term Care Centers

* Florida's COVID-19 surge leads to tighter restrictions for some Caribbean visitors: Targeting Florida's surging coronavirus infections as a public health threat, two Caribbean destinations joined the Bahamas Tuesday in changing their entry requirement for tourists traveling from the state — and elsewhere in the United States.

* ICUs full at three Lee, Collier hospitals as coronavirus cases continue to rise: Three of Southwest Florida's nine acute-care hospitals had no available intensive-care unit beds for adults on Wednesday, in part because of growing numbers of coronavirus cases.

* Coronavirus in Lee County: What you need to know Thursday, July 2: Those new positive cases resulted from a total of 1,088 tests reported Wednesday by the state for Lee County. That's a positivity rate of 32.5%. Lee crossed 5,000 COVID-19 cases on Sunday. It took just four more days for the county to easily surpass 6,000. That's one more day than it took for Lee to go from 4,000 cases (June 25) to 5,000 (June 28).

* Publix confirms 21 additional stores in Central Florida impacted by COVID-19
48 Comments















































































































































Sorry, comments for this post are now closed.