* This is bonkers…
More than 121,000 Chicagoans have already registered to vote by mail in the November election, setting a city record.

For the March primary election, 118,000 people submitted vote by mail applications. Before that, the city hadn't seen so many vote by mail applications since 1944 during World War II, when 116,000 people applied to vote by mail.

The numbers are expected to go even higher, as the Chicago Board of Elections will send 900,000 more vote by mail applications to people in the weeks ahead. They'll also distribute information about voting by mail to 500,000 city households.

To make sure people are confident in the vote by mail system, the election board is also rolling out ballot-tracking measures so voters can know when their ballot is received and approved.
Holy moly that's a lot of people.
* Meanwhile, in suburban Cook…
Nearly 50,000 suburban Cook Cook County voters have applied to #VoteByMail in the November 3 Presidential Election!

Join in and apply for your mail in ballot today at https://t.co/xwH3nu2OkV. pic.twitter.com/X7lI6kMDFH

— Karen A. Yarbrough (@cookcountyclerk) July 13, 2020
* This Republican pollster is right to start worrying…
Yikes — just finished a statewide survey in a swing state. The quarter of the voters who plan to vote by mail or absentee break 15% Trump/75% Biden on the Pres. ballot. Republicans are skeptical about voting by mail, and that's a problem up and down ballot.

— Glen Bolger (@posglen) July 13, 2020
Illinois Republicans pioneered vote by mail programs.
* Florida…
The state elections office data shows Democrats with a more than 400,000-voter advantage over Republicans in vote-by-mail enrollment in the state. At the same time, a CBS News Battleground Tracker poll published on Sunday reveals a partisan divide over support for voting by mail, with just a quarter of likely Trump voters saying they prefer to vote by mail in 2020, compared to 59% of likely Joe Biden voters. […]

Heading into the August primary in 2016, more than 1 million Republican voters had requested mail ballots, compared to about 880,000 Democrats. As of Monday, Democrat vote-by-mail requests outnumbered Republican requests by about 1.6 million to 1.2 million.
And it's not just Florida…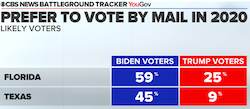 18 Comments





















































Sorry, comments for this post are now closed.