* I just can't even…
Re: IHSA changes fall sports

My son found out today about his upcoming football season. My thoughts? The Devil is about fear and isolation. Does he own you? How much more of my son's childhood are we going to steal? Death will eventually come for everyone. 1/ #ILSen #Twill pic.twitter.com/9Lc5ylPPhv

— Fmr. Sheriff Mark Curran (R-IL) 🇺🇸 (@ElectMarkCurran) July 29, 2020
…Adding… I'm not sure what this proves, but OK…
Hi Rich,

My name's Jim Minardi and I am the Communications Director for the Curran campaign.

I am responding to the post you did today on your website of a tweet THREAD the campaign put out in response to the change in IHSA sports schedules. Why did you leave out the rest of the thread? There were two other tweets in the reaction Mark wrote. Please correct immediately and provide your readers the full context of Mark's thought, tweets 1-3. The other tweets were written by staff as the account is primarily staff managed which is clearly stated in the bio.

Screen shot of tweet two and three (the remaining context of Mark's thoughts) are attached. Please update your post accordingly. And clarify with your readers.

Thank you.
Here it is…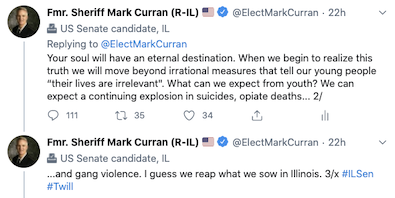 100 Comments











































































































































































































































































































Sorry, comments for this post are now closed.