* Wirepoints…
Six months into COVID-19, the media and Illinois' political elite continue to push cases and the case positivity rate as the key statistics of the pandemic. So much so, that Gov. J.B. Pritzker and Chicago Mayor Lori Lightfoot have threatened shut downs all over again if the case numbers continue to go up.

The persistent reporting of rising cases and high positivity rates invoke fear, but the public should know that cases alone don't matter. What really matters are hospitalizations and deaths. And those have yet to rise in Illinois, even if cases have risen significantly for more than a month and a half. […]

We're not implying that more hospitalizations and deaths won't follow the increase in cases, as has happened in states like Texas, Florida and Arizona recently. A rise is inevitable in Illinois as the state loosens its strict and protracted shutdown.

What's clear, however, is that cases in Illinois are currently decoupled from hospitalizations and deaths.
*Facepalm*
* First of all, case numbers have zero to do with the state's phased mitigation plan (although Chicago does look at cases). The state's regional plan is based on a sustained increase in positivity rates above 8 percent (which, despite what they're claiming, is an all too real danger zone), or a sustained increase in positivity rates along with a sustained increase in hospitalizations or pending bed shortages.
Also, ignoring what happened in Illinois and now in Florida, etc. is kinda mind-boggling.
* Illinois Policy Institute headline today…
Pritzker gets OK to treat businesses as criminals for failing to enforce his COVID-19 mask order
From mid-April…
"As an owner of 2 small businesses, one essential (radon mitigation), one a restaurant … nothing I can say will express the absolute disdain I have for this man or his policies," a commenter complained about Pritzker.

A Policy Institute staffer replied to her comment asking if she would be open to speaking to a member of the IPI team. "We've been doing our best to give our community a voice on our site and pressure JB to reopen the state's economy."

Another commenter predicted that Pritzker "and his boss lori lightfoot will kill Illinois." An IPI staffer replied with the same request to speak with her about her story. "We've been featuring small business owners on our site to try to pressure the governor to reopen the state's economy."
I originally told subscribers about this on April 10th. On that day, Illinois reported 596 total deaths from COVID-19. Exactly a month later, Illinois reported 3,406 deaths. Two months later, Illinois was reporting 6,095 deaths.
…Adding… The IPI is also falsely claiming business owners face jail time, when that's clearly not what the IDPH rules say…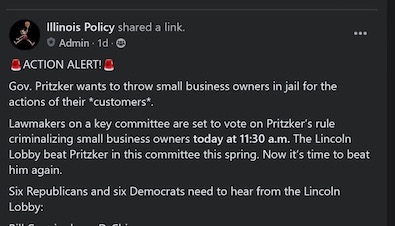 * Want to open up? Deal with the virus. Encourage businesses to follow common sense guidelines and then we can hopefully get to where New York is…
Boston Fed President Eric Rosengren: : "Limited or inconsistent efforts by states to control the virus based on public health guidance are not only placing citizens at unnecessary risk of severe illness and possible death — but are also likely to prolong the economic downturn."

— Steve Liesman (@steveliesman) August 12, 2020
More testing only uncovers more positives when there are positives to be found.

In New York, daily new cases have gone down as testing has gone up. pic.twitter.com/OXNlGe9B38

— Andrew Cuomo (@NYGovCuomo) August 11, 2020
* Meanwhile…
First it was Seattle. Then New York City. Then the novel coronavirus hit Arizona, Texas, and Florida with a vengeance, infecting hundreds of thousands of people and leading to backlogs of bodies in morgues that are still growing today.

The big question, as the weather begins to turn cold, flu season approaches, and schools reopen across the nation, is a simple one: Which city is next?

The modelers at PolicyLab, the think tank at the Children's Hospital of Philadelphia (CHOP) whose projections are often used by the White House Coronavirus Task Force, think they have an answer: Baltimore, Chicago, and Boston. The reasons range from density to climate to behavior to demographic factors. But, cumulatively, they have created a dangerous and swelling disease burden within the cities and in their immediate environs, according to PolicyLab models and interviews with a slew of public health experts.
14 Comments









































Sorry, comments for this post are now closed.