* Press release…
Libertarian candidate for US Congress in the 6th District, Bill Redpath, personally received an endorsement from his longtime friend and colleague Krist Novoselic, known most notably as the bassist from the Grammy award-winning band Nirvana.

Redpath and Novoselic were both longtime active members of the non-profit organization FairVote, where Redpath was the Treasurer from 1995 - 2019 and Novoselic was the Chair from 2008 - 2019.

FairVote works to reform the electoral process, making elections more fair and accessible for both voters and candidates. They also advocate for Ranked Choice Voting, which gives a citizen's vote more weight and influence in an election. FairVote.org offers details on how ranked choice voting works.

"I am proud to receive the endorsement of Krist Noveselic. FairVote is a leading organization trying to change the electoral system in the US and calls for Ranked Choice Voting in both single winner elections and multiple winner elections for legislative seats. That is what is needed, so that so many voters don't feel boxed into voting for the lesser of two evils."
- Bill Redpath

Bill Redpath is the Libertarian candidate for US Congress from the IL 6th Congressional DIstrict. His opponents are Republican Jeanne Ives and Democrat Sean Casten.
* Photo…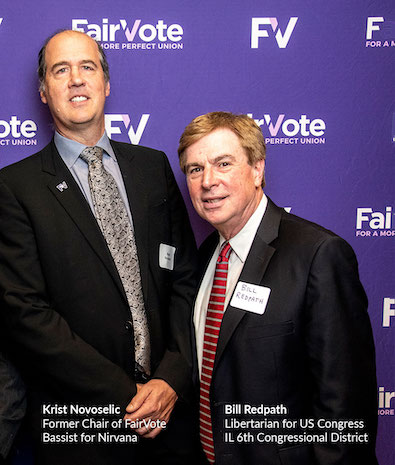 34 Comments »





































































































This is not Facebook, so uncivil comments, profanity of any kind, rumors and anonymous commenters will not be tolerated and will likely result in banishment.