* Madison County Times-Tribune…
Attorney Thomas DeVore, who has gained fame during the COVID-19 shutdowns for directly questioning and winning suits against Illinois Governor JB Pritzker's Executive Orders and shutdowns of restaurants, bars, and small businesses gave a presentation at Bella Vista Winery in Maryville on Wednesday afternoon about what the new mitigation measures mean to restaurants and bars and what they can do about it.
He's winning suits? And since when is the state shutting down local bars and restaurants?
* Let's continue…
The basis for [DeVore's] advice to the restaurant and bar owners came from the Department of Public Health Act (20 ILCS 2305/2(c)) which states "no place may be ordered to be closed and made off limits to the public except with the consent of the person or owner of the place or upon the prior order of a court of competent jurisdiction…In the event of an immediate order issued without prior consent or court order, the Department shall, as soon as practical, within 48 hours after issuing the order, obtain the consent of the person or owner or file a petition requesting a court order authorizing the isolation or quarantine or closure."
That's… not great advice. Those businesses could be hit with a misdemeanor charge and a possibly hefty fine for their defiance. It's not about closing businesses, or pulling their licenses - something the governor has repeatedly said he doesn't want to do.
* More…
DeVore informed business owners "I'm not advocating for social disobedience, I'm asking for business owners to stand up." The crowd erupted in applause when DeVore said "If enough of you stay open, this is over.

The majority of restaurant and bar owners in attendance, as well as dozens that had contacted DeVore before today's educational presentation from across the area, said they plan on keeping their indoor dining open this time. DeVore said the owners are not looking to be defiant of anything, and have not come by their decisions to stay open lightly. Many of the owners stated that if they shut down inside dining, they will never reopen. One owner of an establishment outside of Madison County said that last week he did a poll on Facebook asking his customers if he should stay open. Of the 300 responses he received, 297 said to stay open and he is going to do so.

DeVore encouraged each owner to speak with their own legal counsel about their decision since each business has its own unique needs.
As a reminder, the region has a 9.9 percent positivity rate.
* From DeVore's Facebook page…
Sheesh.
* He also showed off his new tattoos…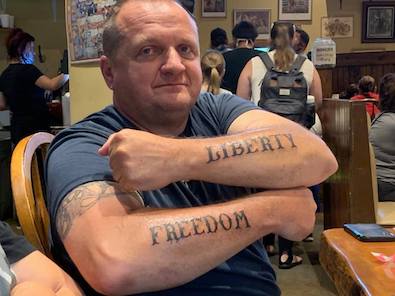 …Adding… We went to the Sangamo Club for dinner last night (outside, of course) and I think the sign on its front door puts the whole mask issue into proper context…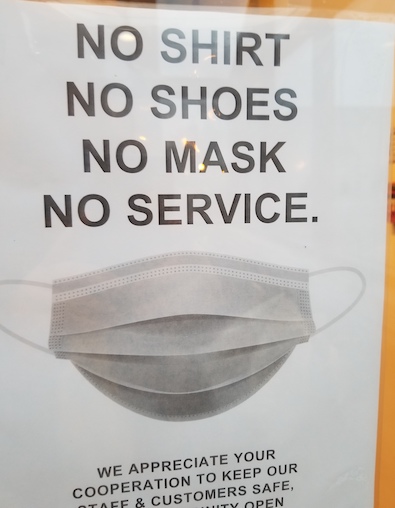 Also, if establishments are listening to lawyers like DeVore instead of public health officials when it comes to things like masks, you gotta wonder what they're doing in the kitchen. If I live to be 100, I will never again go to restaurants that flout these simple, basic public health rules. And I may compile a list before veto session.
*** UPDATE *** Illinois Supreme Court today…
IT IS ORDERED that the motion for clarification is allowed. This court's order of August 5, 2020, transferring cases from Edgar, Bond, Clinton, and Richland Counties to Sangamon County to be consolidated with Sangamon County No. 20 MR 589, is hereby corrected, nunc pro tunc, to specify that these cases and the cases that were transferred to and consolidated in Sangamon County in case Nos. 126232 and 126261, shall be heard by the same judge, Judge Grischow, who was assigned to preside over Riley Craig et al. v. Governor Jay Robert Pritzker, etc., Sangamon County No. 20 MR 589, and Governor J.B. Pritzker, etc., et al. v. Board of Education of Hutsonville CUSD #1 et al., etc., Sangamon County No. 20 MR 557.
* Here's an explainer from the attorney general's office…
It is a procedural order. The Supreme Court's earlier orders transferred the cases in other counties to Sangamon, but didn't specify that they should all be heard by the same judge (Judge Grischow, who had previously been assigned to hear the Craig and Hutsonville cases). Because the earlier orders didn't specifically say that the cases should go to Judge Grischow, DeVore thought he had the right to move for a substitution of judge. We filed our motions because we thought the court intended that all cases go to Judge Grischow, and the court agreed.
DeVore had moved for a substitution of the judge in the Bailey case, but waited to do so until after Judge Grischow ruled against him in the Hutsonville case. It wasn't that long ago, you may recall, that DeVore was accusing the governor of judge-shopping.
67 Comments »








































































































































































































This is not Facebook, so uncivil comments, profanity of any kind, rumors and anonymous commenters will not be tolerated and will likely result in banishment.