* From Madison County's public health department yesterday…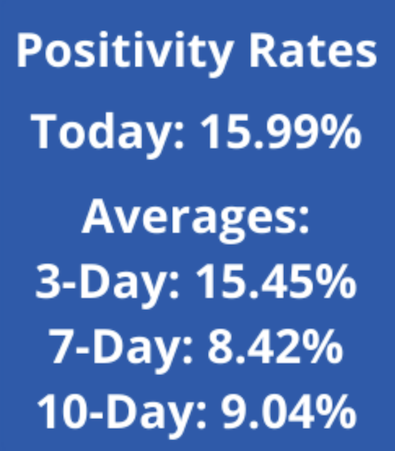 Oof.
* Highland is in Madison County…
Highland Mayor Joe Michaelis hasn't yet gotten a response to his letter to Illinois Gov. J.B. Pritzker, but he's okay with it.

"It may sit on his desk for a while," Michaelis said. "He probably gets a laundry basket full of mail."

Michaelis wrote a letter to Pritzker dated Sept. 4, and posted it on Facebook, citing his "grave concern" about the impact of the heightened restrictions on businesses in his community.
First, deal with the virus.
* Meanwhile, here's the BND…
[St. Clair County's] daily positivity rate dropped sharply from 9.3% on Tuesday to 8.2% on Wednesday. The daily positivity rate is the percentage of positives from a day's worth of coronavirus tests.

The county's seven-day positivity rate was 6.8% as of Wednesday, up slightly from 6.6% as of Tuesday.

"If the spread had been stopped back in January or February, this never would have gotten here," St. Clair County Board Chairman Mark Kern said during the county's daily briefing Wednesday. "We never would have had to deal with this. We're doing what we can in St. Clair County to contain the virus and keep as many people as possible from getting it. If we take our foot off the gas, we might see those numbers go up. We're making progress here."
Looks like St. Clair County is being held back by Madison County.
20 Comments »



























































This is not Facebook, so uncivil comments, profanity of any kind, rumors and anonymous commenters will not be tolerated and will likely result in banishment.