* To be clear, this FOP lodge does not represent any Department of Corrections employees in the collective bargaining process. The lodge is a fraternal organization, not a union. But the subject of this social media post certainly provides us with a disturbing look at the mindset of some IDoC workers. It's a best seller, eh?…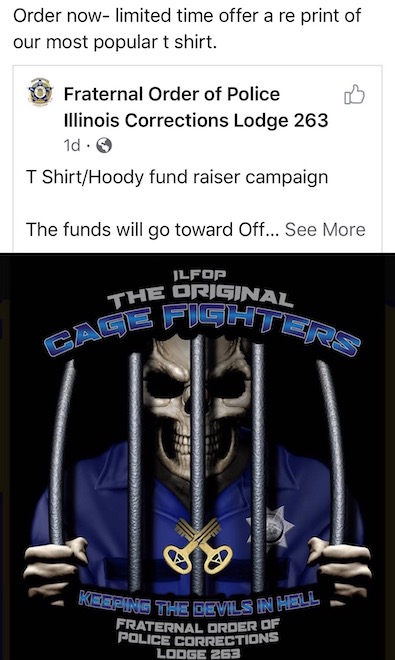 * Anders Lindall at AFSCME Council 31, which actually represents IDoC workers in contract matters…
Corrections employees are not "cage fighters". They are security staff, counselors, therapists, health care providers, maintenance and dietary and clerical workers and many more charged with keeping the public safe and rehabilitating inmates to return to their communities.

AFSCME is proud to represent these thousands of men and women who do essential work in very difficult circumstances. Especially now when corrections employees are putting themselves at even greater risk to serve amid a pandemic, negative portrayals like this one are offensive and disturbing.
* Jordan Abudayyeh at the governor's office…
The administration is deeply disturbed by the message this shirt sends and remains committed to criminal justice reform centered on rehabilitation for those who are serving sentences at DOC. The views expressed on this article of clothing are abhorrent and out of line with the values of this administration.
* Related…
* Three Illinois Prison Guards Face U.S. Civil Rights Charges in Inmate's Beating Death: The three men assaulted Mr. Earvin "without legal justification" while he was handcuffed "and posed no physical threat," the United States Attorney's Office said. After the assault, the men filed "knowingly false incident reports that failed to disclose any assault" of Mr. Earvin, the office said.

* Pritzker Reviewing How Prisons Investigate Inmate Deaths, But Won't Commit To Transparency Bill
14 Comments









































Sorry, comments for this post are now closed.