* The Tribune took a quick look around…
After winning a slew of suburban state legislative seats long held by Republicans in 2018, Illinois Democrats are looking to expand their reach even further in November as renewed controversy swirls around their powerful leader, longtime House Speaker Michael Madigan.

Republicans for years have built their campaign strategy around vilifying Madigan, who has been speaker for all but two years since 1983, but it hasn't paid off in a big way at the ballot box. This year, however, the GOP hopes its anti-Madigan message will resonate in a new way after federal prosecutors in July alleged that Commonwealth Edison engaged in a "yearslong bribery scheme" designed to curry favor with the speaker.

But Madigan, who has not been charged and has denied wrongdoing, is only on the ballot in his Southwest Side district, and Democrats are hoping to capitalize on a changing suburban electorate's dissatisfaction with the name at the top of the Republican ticket: President Donald Trump. […]

"Voters across the state, and suburban voters in particular, are responding to the intersection of the pandemic, the economy and access to affordable health care," [Senate President Don Harmon] said. "That's been our message across the state. It's resonating, especially in the suburbs."
A snarky parlor game being played by some these days is guessing which number will be higher after the election: Membership in the Senate Republican caucus (currently at 19 with one on the bubble) or Madigan's excess majority (currently at 14).
* Some of the spending has been horribly lopsided…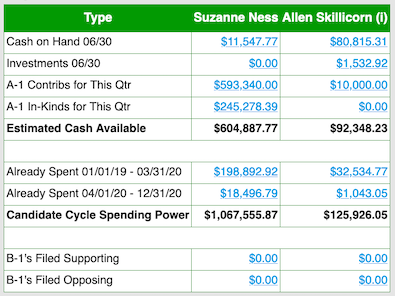 * But at least one district is so pro-Trump that money may be a lesser factor than elsewhere…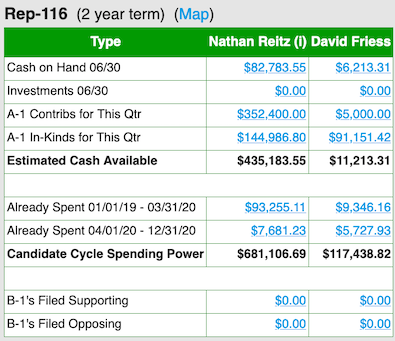 If you don't subscribe to Scott Kennedy's Illinois Election Data, you need to change that. Click here.
* Both parties are airing brutal ads. Here's one from a week ago…
Script…
They're called the Eastern Bloc, a group of ultra-right-wing extremists. And Seth Lewis is their newest recruit. Their agenda? Dismantle Planned Parenthood and block women's health care, strip away a woman's right to choose even in cases of rape and incest. The Bloc are for unlimited gun access and against vaccinations for school children. And they've removed life-saving COVID protections for essential workers and seniors. Seth Lewis' agenda? Radical, bizarre, dangerous.
* From the Daily Herald's endorsement of Lewis, who is running against Democratic freshman Rep. Diane Pappas…
He's a moderate and personable Republican and strikes us as a fundamentally decent person.
You wouldn't know it by the ads.
* And as I told subscribers this morning, some new oppo was released in the Metro East yesterday…
As focus of a local celebrity roast more than three years ago, Monica Bristow downed six shots of Fireball whiskey while listening to several roasters, one of whom said she "drinks all the time." […]

However, one of the most controversial statements made by Bristow during the Jan. 19, 2017 roast, held as a fund-raiser for Pride, Inc. at Lewis and Clark Community College in Godfrey, was a joke she told about a retired teacher whose remains were found inside a vehicle in the Mississippi River in 2005, three years after her disappearance. […]

"About Miss Bricker. I was Miss Bricker's favorite student…Miss Bricker was the one who met her end going into the river," Bristow said at the roast. "I shouldn't do this but I'm gonna because I've had Fireball. She had no children so they're not here."

Bristow joked that Bricker was identified by lipstick on her teeth.

"I know it's in poor taste," Bristow said, "but I love that joke. God, I love that joke."
Oy.
But will the HGOPs have enough cash to make sure people hear about it?…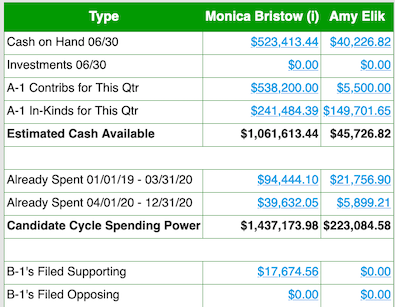 That district is in the St. Louis media market, and those TV ads ain't cheap.
21 Comments »






























































This is not Facebook, so uncivil comments, profanity of any kind, rumors and anonymous commenters will not be tolerated and will likely result in banishment.