* Press release…
The nonpartisan Tax Foundation has released an updated report on Governor J.B. Pritzker's (D) proposal to permit a graduated-rate income tax in Illinois, which would take effect if voters approve a constitutional amendment on November 3.

If passed, Illinois would have some of the highest individual and corporate income taxes in the country and one of the least competitive overall tax codes, causing the state to decline from 36th to 47th on the State Business Tax Climate Index.

Other findings from the report include:

• Combined corporate income would be taxed at 10.49 percent, the second-highest rate in the nation
• Pass-through business income would be taxed at a top rate of 9.49 percent, the sixth-highest rate in the nation
• The neighboring states of Indiana, Iowa, Kentucky, and Missouri have all cut income taxes in recent years, while Illinois may be headed in the opposite direction
• The proposal diverges sharply from ideal—or even typical—income tax structure by:
o Omitting inflation indexing (resulting in "bracket creep")
o Creating a marriage penalty
o Imposing a recapture provision which subjects the entirety of a taxpayer's income to the top marginal rate once they reach that bracket
• Should voters permit a graduated-rate income tax, there's reason to believe that rates may climb even higher and that more taxpayers would be subjected to higher rates

"Were Pritzker's proposal adopted," writes Senior Policy Analyst Jared Walczak, "Illinois would trail its peers in just about every aspect of its tax code. If businesses and individuals are leaving the state now, these policies can only make the problem worse."
The report is here. The full list of the group's board is here.
* From Quentin Fulks with Vote Yes for Fairness…
It's not surprising that a group that's lauded Donald Trump's corporate tax cuts is against a policy that will fix our broken and unfair tax system that forces hardworking families and struggling small businesses to pay the same tax rate as millionaires and billionaires. It means at least 97% of Illinoisans will receive a tax cut, including more than 95% of small businesses, while generating billions of dollars in additional revenue that can go toward funding our education system and lessening the property tax burden. Currently, thousands of lower-income minority families are fleeing Illinois each year in search of better opportunity, and by passing the Fair Tax we can create a state where they, and all of our families, can thrive.
* Meanwhile…
Illinois does not currently tax retirement income, but there is nothing in the constitution preventing legislators from passing a law to start doing so.

"The myths and lies that are out there about that are obvious of where they're coming from which are individuals who don't want to pay their fair share," [AARP Illinois State Director Bob Gallo] said. "The state could have raised or taxed retirement income all along and they have floated that trial balloon in the past and AARP stopped it in its tracks."

Gallo said AARP will do the same should anyone instigate discussions about taxing retirement.

He said a graduated tax will help seniors, by helping to get the state on sounder fiscal footing after in recent years having social services that support vulnerable populations get gutted for lack of funding.
* And…
Don Todd, president of the Illinois Alliance for Retried Americans said opponents have "spread lies about the fair tax." He cited an ad featuring a woman who says she is a grandmother who says she won't be able to afford to live in Illinois if the amendment passes because it will tax her retirement.

Opposition groups have cited comments made by Treasurer Mike Frerichs last summer to justify their ads suggesting retirement income could be taxed if the amendment is approved. Frerichs told a chamber of commerce that a graduated tax would allow taxation of very high pension incomes. However, he has emphasized he does not support taxing retirement income and Pritzker also opposes it.

Carmen Batances of Chicago, a member of Jane Addams Seniors in Action, said the flat tax "disproportionately harms low income communities of color in Illinois."

"Many of our children are overtaxed with the flat tax," she said. "I demand the false advertisements made to scare seniors be taken down immediately."
…Adding… The entire @liz_uihlein account has been deleted. This could be a fake. Taking down the screen shot, etc. for now.
…Adding… Institute of Government and Public Affairs press release…
A new report from IGPA, titled How Often Do Graduated and Flat Rate States Change Their Tax Rates?, looks at what other states have done in the recent past.

"The debate over Illinois' graduated tax proposal made me wonder, do other states change their personal income tax rates frequently?" said report author and IGPA Senior Scholar David Merriman. "It turns out the answer is no, and that goes for states with graduated-rate structures and flat-rate structures. Changes to personal income tax rates just aren't that common."

The report considers the personal income tax systems of all U.S. states and the District of Columbia from 2002 through 2019. Merriman, who also chairs IGPA's Working Group on the Fiscal Health of Illinois, looked at 153 cases of annual tax rate dynamics in states with flat rates taxes and 592 cases of tax rate dynamics in states with graduated rate taxes.

In each year, Merriman examined whether any state tax rate changed. Out of 153 total cases, there were tax rate changes in 27 cases, or 17.76%, in states with a flat-rate tax. In graduated-rate states, out of 592 total cases, there were tax rate changes in 94 cases, or 15.85%. When rate changes were made, rate cuts were much more common than rate increases in both flat- and graduated-rate systems.
The full report is here.
*** UPDATE 1 *** The governor's campaign folks are going with it…
In a since deleted tweet, Uline President Liz Uihlein announced her opposition to the Fair Tax, calling it a "handout" to her employees. These are the same employees she forced to come into work in a call center at the peak of the Coronavirus pandemic back in March. In the tweet, she expresses concern about having to "subsidize" her employees' taxes, though her company received up to $18.6 million from the taxpayers of Wisconsin when it moved its facilities there in 2010. The Uihlein family is estimated to be worth $4 billion.

Uihlein's husband, Richard Uihlein, has donated $100,000 to an organization fighting against the Fair Tax.

This tweet by Uihlein echoes a comment made by another opponent of the Fair Tax a few months ago, when Cindy Neal despicably called low income Illinoisans "takers" and high-income earners "makers" in an interview with WCIA's Mark Maxwell.

"Opponents of the Fair Tax can try to hide behind millions of dollars in disingenuous ads and false rhetoric, but the truth will always come out," said Quentin Fulks, Chairman of Vote Yes For Fairness. "Billionaires like Liz Uihlein and Ken Griffin don't care about our middle and lower-income families. They only care about protecting their bottom line, which is why they're fighting to stop the Fair Tax, which would make them finally pay their fair share and give a tax cut to 97% of Illinoisans. Time and again, opponents of the Fair Tax have made clear they're only in it for themselves, and Vote Yes For Fairness is committed to making sure they don't get away with their deceptive tactics."
The alleged tweet…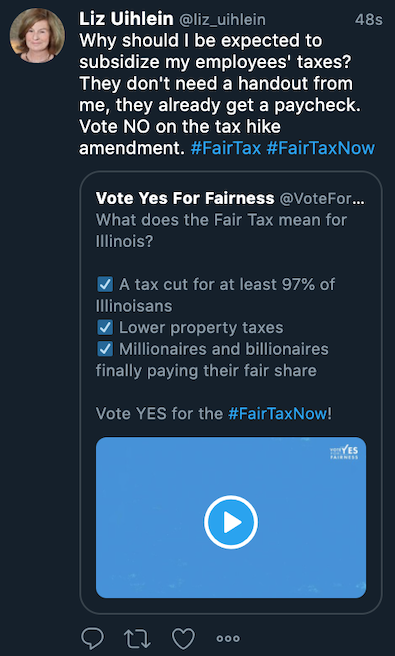 *** UPDATE 2 *** As I suspected…
Rich,

I am writing to you to confirm that the alleged Liz Uihlein tweet that was the subject of your coverage yesterday was a fake account, and that Liz Uihlein has never had a twitter account. After being reported, the fake account has been removed by Twitter for impersonation. We respectfully request that you please remove this coverage of this issue or update it to indicate it was a fake account in no way related to Liz Uihlein.

Thank you,
Ellie

–

ELLIE O'NEIL
Mueller Communications LLC
39 Comments »




















































































































This is not Facebook, so uncivil comments, profanity of any kind, rumors and anonymous commenters will not be tolerated and will likely result in banishment.