* The Illinois Policy Institute's headline is about as false as false can get…
Alderman warns Pritzker could close Illinois polling places due to COVID-19
What?
Nope, nope and nope.
* Ald. Burke's letter did not even mention the governor or the state…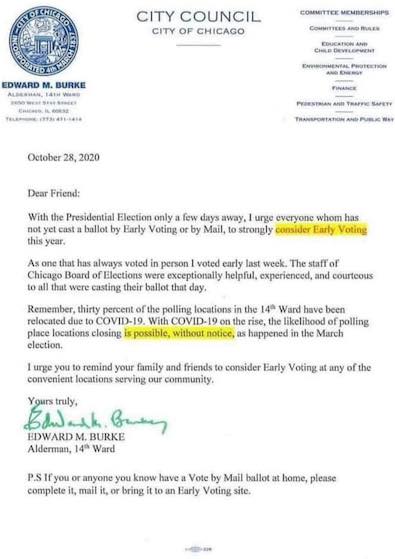 * To the IPI story…
A Chicago alderman's warning about sudden polling place closures thanks to COVID-19 orders has a Cook County commissioner asking Illinois Gov. J.B. Pritzker to reassure voters a statewide closure will not be used to impact the election.

The concern was prompted when embattled Chicago Ald. Ed Burke, 14th Ward, sent a letter to constituents urging early voting to avoid sudden Election Day closures.

"Remember, thirty percent of the polling locations in the 14th Ward have been relocated due to COVID-19. With COVID-19 on the rise, the likelihood of polling place locations closing is possible, without notice, as happened in the March election," Burke's letter states.

That set off Cook County Commissioner Sean Morrison, a Republican from Palos Park, who called on Pritzker to tell voters he would not issue shutdown orders for Election Day gain.

"I publicly challenge the governor to assure Illinois voters he will not interfere with the November 3rd election by proclaiming an emergency COVID shutdown similar to the one he proclaimed in March," Morrison told Illinois Review.
Commissioner Morrison's memory is faulty. The governor did not shut down the primary, despite pressure to do so from the far left. He also didn't order a single polling place closure.
* But I asked anyway, and Pritzker's spokesperson Jorday Abudayyeh said "The governor is not going to stop the election from taking place," adding, "We have given instructions to locals on how best to conduct elections in this environment and polling places are not subject to the mitigation."
13 Comments






































Sorry, comments for this post are now closed.