* This is huge…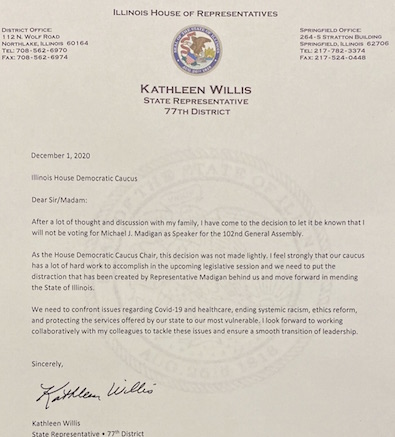 Yes, she represents the suburbs, including part of DuPage. But she's a member of leadership and has strong union ties. I'm pretty stunned by this development.
* The list…
Jonathan Carroll
Kelly Cassidy
Deb Conroy
Margaret Croke
Eva-Dina Delgado
Daniel Didech
Robyn Gabel
Jennifer Gong-Gershowitz
Will Guzzardi
Terra Costa Howard
Stephanie Kifowit
Lindsey LaPointe
Anna Moeller
Bob Morgan
Anne Stava-Murray
Maurice West
Ann M. Williams
Kathleen Willis
Sam Yingling
…Adding… From Rep. Deb Conroy…
The idea that because after many nights of losing sleep you came to the decision that you can not support the current Speaker means you are not a loyal union supporter is ludicrous. I am from a union family and I will always support union families. We are the strongest union state in the 50 and we will continue to be going forward. Thank you Representative Willis for your leadership and bravery.
80 Comments















































































































































































































































Sorry, comments for this post are now closed.