* From Sabato's Crystal Ball…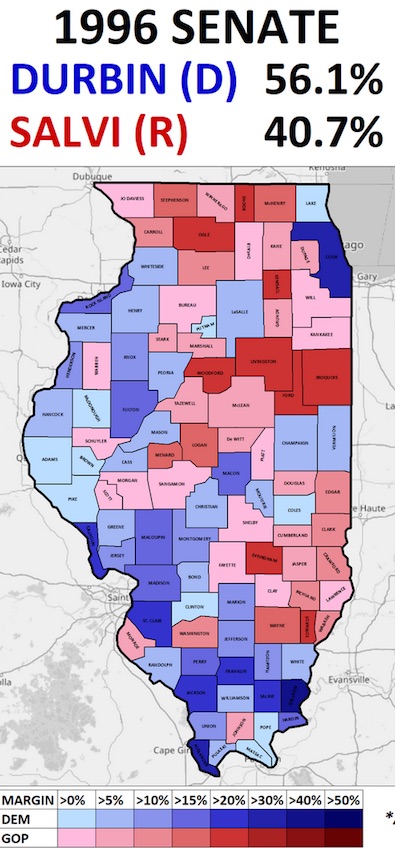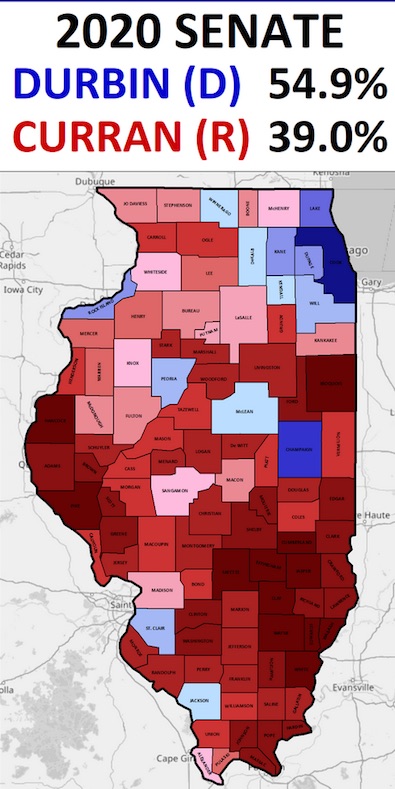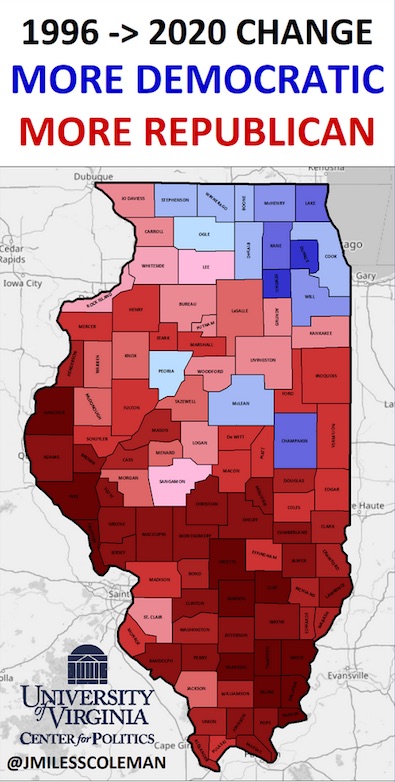 * And here they are side-by-side for an easier comparison…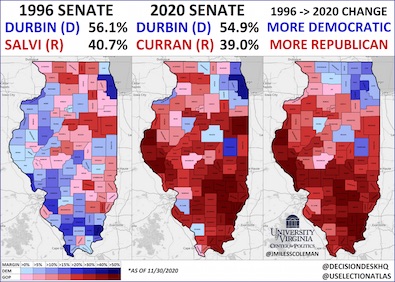 Don't get hung up on the Durbin reference in comments. This isn't really about him. It's about how the state has changed and what the trends look like. Yes, the Democratic Party has a whole has to reverse the trend in small Downstate cities, but the statewide vote is in the city and the suburbs and the Republicans are just getting slaughtered.
You already knew that, of course, but the map is a good illustration.
* Narrative…
Durbin was first elected to the House in 1982, representing a Downstate district in between the Springfield and St. Louis areas. When another fellow Downstate Democrat, then-Sen. Paul Simon, retired from the Senate in 1996, Durbin ran for the seat, and he carried most counties south of St. Louis. As those demographically whiter and more rural counties have drifted Republican in past decades, Durbin's coalition has increasingly become more urban and suburban.

This year, other than narrowly losing McHenry County, he carried every county that touches Chicago's Cook; these formerly-Republican suburban counties are known collectively as the Chicago's Collar Counties. In 1996, he lost the largest collar county, DuPage, by 10 percentage points — last month, Durbin got the same 55% there as he did statewide.

Durbin held a smattering of Downstate counties, but this seems like more a sign of his strength with white collar academics than blue collar workers — aside from St. Clair County in the St. Louis metro area, with its large Black population, every county south of Peoria that he won last month is home to a major university: Champaign (University of Illinois), McLean (Illinois State University) and Jackson (Southern Illinois University).

To be fair, Durbin did perform relatively well, compared to Biden, in the counties that made up his old congressional district. In rural counties such as Brown, Calhoun, and Macoupin, he ran double-digits ahead of the national ticket — but often, it was a case of Durbin polling in the 30s, compared to Biden, who was in the 20s.
…Adding… Tribune…
* How did your neighbors vote for president, Senate and the graduated-rate income tax amendment? Search our city and suburban map to find out.
44 Comments



































































































































Sorry, comments for this post are now closed.