* The only surprising thing about this is that the CTU deleted the tweet and kinda walked it back…
Am curious how much blowback CTU got from parents that led them to delete this: pic.twitter.com/0kOyFyEqR7

— Zoe Galland (@zoegalland) December 7, 2020
Fair enough. Complex issue. Requires nuance. And much more discussion. More important, the people the decision affects deserve more. So we'll continue give them that.

Appreciate the feedback of those truly in the struggle.

— ChicagoTeachersUnion (@CTULocal1) December 6, 2020
* ABC7…
As thousands of Illinois residents and businesses struggle to abide by current state COVID-control regulations, a downstate Christmas party held Thursday night reveals the battle that Gov. JB Pritzker and health officials now face: some people in the state aren't following government rules, including a pair of well-known state representatives.

Illinois State Rep. Brad Halbrook (R-102nd) held a supporter Christmas party Thursday that featured Illinois State Rep. Darren Bailey (R-109th) who was just elected to a state senate seat, the 55th district. The party's location was Yoder's Kitchen, a popular banquet hall south of Champaign.

The seemingly happy function featured dozens of full tables with no one apparently abiding by current protocols that prohibit crowds and require masks.

As the photos on Bailey's campaign Facebook show, there were more than 100 people, no masks and no social distancing. Masks are not even seen on the tables and the elected officials are pictured in very close proximity to other people.

The event's featured speaker was former state representative Jeanne Ives, who recently lost her race for a U.S. congressional seat.
Pic…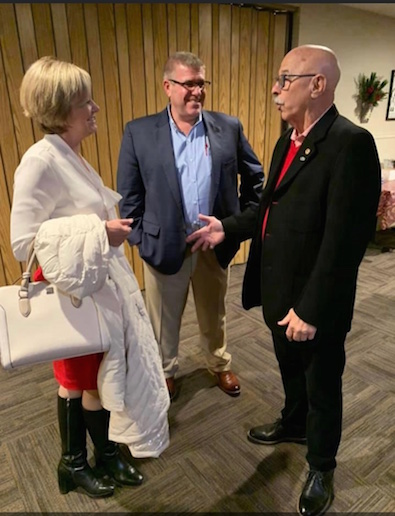 50 Comments





















































































































































Sorry, comments for this post are now closed.