* Heather Cherone at WTTW…
The first doses of a COVID-19 vaccine could be distributed to health care workers in Illinois and Chicago between Dec. 20 and Dec. 26 if federal officials grant an emergency use authorization, as expected, to pharmaceutical company Pfizer, Gov. J.B. Pritzker said Friday.

Illinois expects to get 109,000 doses of the Pfizer vaccine, including 23,000 doses reserved for Chicago, in the first shipment, Pritzker said. However, that depends on federal officials voting to authorize its distribution on Thursday.

But that will only be enough for a fraction of the 654,598 health care workers in Chicago and Illinois, Pritzker said. The first doctors and nurses to be vaccinated will be in the 50 Illinois counties with the highest death rates per capita, officials said.

That includes DuPage, Kane, Will and Lake counties as well as suburban Cook County, officials said.
OK, let's pause it right there.
First, keep in mind here that this round of vaccines is going to doctors and nurses, not the general public. But the administration is using a general public metric - county death rates - and not a frontline metric, like, perhaps, hospitals with the highest patient loads.
* Here's the list of counties…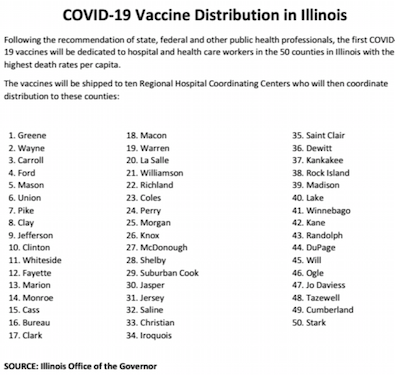 Several of those counties feed their patients into regional medical centers in places like Springfield, Quincy and Peoria. But the three counties with those hubs are not on the list.
Again, perhaps if the metric was "counties where people actually die in the hospital," it would make more sense. But why should Tazewell County get aid for its workers when COVID-19 patients are being sent to Peoria? If you Google "Tazewell County Hospitals Illinois," the list is almost purely Peoria facilities. Same for Christian, Shelby, Morgan, etc. and their medical hub in Springfield.
Again, we're supposed to be helping frontline medical workers with these vaccines. The metric isn't based on those medical workers. So, a whole bunch of hard-working nurses and doctors are being left out of this round.
* I asked the governor's office for a response…
Decisions about how best to distribute limited doses of the vaccine are of course wrenching, but using deaths as the determinant was important because death is the ultimate worst outcome that we hope to prevent. Next week, health care workers in places with lower death ratios will begin to receive vaccines. And in the meantime, local health departments should prioritize distribution of the vaccine to facilities where residents of the hardest-hit counties receive their care. Healthcare workers are a part of their community and the healthcare workers who live in communities with the highest rates of death will get the first doses. The state expects regular shipments that will roll out to all healthcare workers soon after the first round.
36 Comments











































































































Sorry, comments for this post are now closed.