* From the most never-wrong expert on everything COVID…
Now @GovPritzker has some explaining to do. According to this new "science and data," Resturants and Bars, YOUTH travel sports, group classes at gyms should be open! We'll discuss ⁦@MorningAnswer⁩

IDPH releases potential exposure locations https://t.co/wpM3YQbNxZ

— Amy Jacobson (@AmyJacobson) December 7, 2020
* From the linked article…
The Illinois Department of Public Health released information on the rates of COVID-19 exposure throughout the state and where exposure is most prominent.

The Governor has pointed out, in the past, restaurants, bars and schools top the list, but now we're seeing different results.
The accompanying graph…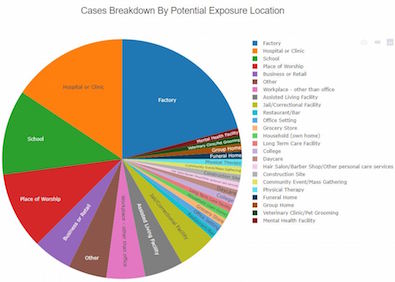 * The governor was asked about the decrease for bars and restaurants yesterday and he said the numbers have dropped because they've been closed for indoor service. Not all have closed, obviously, but the mitigations are clearly working.
29 Comments






















































































Sorry, comments for this post are now closed.