After a pause in November, the University of Illinois Flash Index continued its slow climb to finish the year, rising to 95.9 in December from its 95.6 level the previous two months.

This the highest reading since the precipitous decline that resulted from the COVID-19 pandemic in March. However, the index is still almost 10 points below the pre-crisis level, and it remains below the 100-dividing line between growth and decline. See the full Flash Index archive.

"In one sense, 2020 was a devastating year for the Illinois and national economies. Unemployment rose from a historic low of less than 4% to nearly 15% in just a few weeks," said University of Illinois economist J. Fred Giertz, who compiles the monthly index for the University of Illinois System's Institute of Government and Public Affairs. "However, from another perspective, the economy's resilience has been remarkable. Few observers would have predicted in April that the unemployment rate would fall below 7% before the end of the year."

The Illinois unemployment rate exceeded the national rate by 2.5 percentage points after the onset of the crisis, but it is now near that of the rest of the nation. The recovery of the financial markets has been even more impressive.

Recovery is far from complete, and Giertz said that the process is not fully understood. It is likely the result of an unusually strong pre-crisis economy along with prompt and aggressive intervention on both the fiscal and monetary fronts. The surprisingly fast development of a vaccine has bolstered expectations even as the disease has persisted.

For the month, all three components of the index (corporate, individual income and sales tax receipts) exceeded the levels of the previous December after adjusting for inflation. For the year, receipts for Illinois' three major taxes were below pre-crisis forecasts, but well above post-crisis predictions of a revenue disaster.

The Flash Index is normally a weighted average of Illinois growth rates in corporate earnings, consumer spending and personal income as estimated from receipts for corporate income, individual income, and retail sales taxes. These are adjusted for inflation before growth rates are calculated. The growth rate for each component is then calculated for the 12-month period using data through December 31, 2020. Ad hoc adjustments have been made to deal with the timing of the tax receipts resulting from state and federal changes in payment dates beginning in March.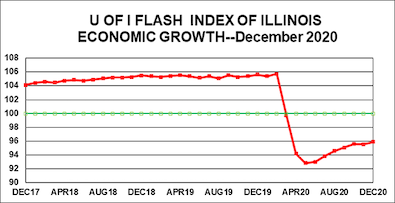 If you have not received an unexpected unemployment benefits debit card in the mail, there is a chance you know someone who has already received one.

NBC 5 continues to hear from viewers who say their names are being used by strangers to file fraudulent unemployment claims with the Illinois Department of Employment Security.

As of early November, the IDES said more than 212,000 fraudulent claims have been made since March.

The cards may not have money pre-loaded, but an IDES spokesperson said fraudsters may try to access a victim's account information in order to divert payments to another card.
The Illinois Department of Employment Security has confirmed fraudsters are using a new scheme to file for unemployment compensation using personally identifying information which was seemingly obtained from a separate source (e.g. a previous cyber-attack or other identity theft) outside of the department's systems.

An analysis found fraudsters were applying for unemployment benefits using the PII of certain identity theft victims and including fake employer addresses in their applications. Fraud notices from IDES, containing the PII, were then sent to the addresses fraudsters claimed were employers. This is now another aggressive maneuver used by bad actors looking to defraud and disrupt states' unemployment systems.

Across the country, bad actors are filing unemployment insurance claims in the names of identity theft victims. Fraudsters take this information and submit claims using a fake employer address, which can coincide with a residential address, or with an employer that has no connection to the victim. IDES's anti-fraud systems are structured to detect, stop, and flag these claims as fraudulent. However, this process does generate an employer notice, informing the employer of the fraudulent claim(s) filed on an employee.
Illinois is working on restoring unemployment benefits to nearly 450,000 people whose benefits expired temporarily after President Donald Trump delayed signing a $900 billion coronavirus relief package.

Roughly 447,500 Illinoisans were at risk of losing jobless benefits entirely when multiple federal programs tied to the $2.2 trillion stimulus package from last spring expired Dec. 26, according to the Illinois Department of Employment Security. […]

The state is waiting on guidance from the U.S. Department of Labor on how to reinstate and implement the federal programs, but plans to pay any missed benefits retroactively, spokeswoman Rebecca Cisco said.

The U.S. Department of Labor said in a statement Tuesday most programs will remain unchanged, but it will deliver guidance to help states implement new programs "in the near future."
While Chicago and the Illinois state government were left out, the region's transit system and Chicago Public Schools emerged as winners in the new federal relief package, securing aid both had banked on when assembling their new budgets.

The Illinois Regional Transportation Authority's service boards that provide light rail, commuter rail, and bus service in Chicago and the suburbs will receive $450 million from the $14 billion earmarked for public transit in the $910 billion package President Trump signed Sunday.

The infusion of funding will help prevent what officials had warned was an Armageddon scenario of deep service cuts and layoffs, but it's still $50 million short of the $500 million a $3 billion 2021 budget assumed. […]

CPS expects to receive a $720 million windfall from the $82 billion allocation for public education in the Coronavirus Response and Relief Supplemental Appropriations Act after sending $80 million to non-public schools as required under the package. The $82 billion provides $54.3 billion for K-12 education, $22.7 billion for higher education and additional funding at governors' discretion to offset higher costs or state aid cuts.

The $720 million is double the $343 million CPS counted on its fiscal 2021 budget approved over the summer but officials also warn of ongoing fiscal pressure from the pandemic that will hurt future revenues and endanger state aid.
13 Comments






































Sorry, comments for this post are now closed.