* A bill that would separate the state from a federal tax break and which Democrats said would prevent as much as a $1 billion state revenue hit received just 50 votes tonight - 10 shy of the minimum passage number. Here's the screen shot…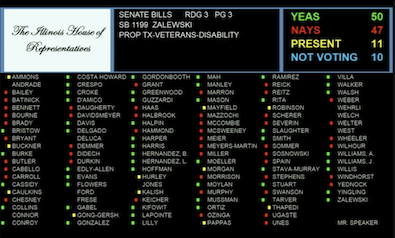 There was some debate over whether the bill had been properly put on the order of Postponed Consideration, which would allow another floor vote. But the Democrats brushed back the challenge (of course) and now the governor can try to run it again.
By my late-night eyes, 11 House Democrats voted "Present" or "No," and another 8, including Speaker Madigan, didn't vote. Several members of the Black Caucus did not vote for the bill.
This is a huge setback for the governor. He absolutely has to pass this bill to save his budget.
* But there were some very significant complaints about the Illinois Department of Revenue only figuring out about this budget hole in December and not informing legislators until this month. Other states, like New York, were all over this in the spring…
Hey General Assembly if the Revenue Director didn't realize back in April 2020 the CARES Act NOL decoupling was a huge problem - TELL THEM TO GET BETTER GOOGLE NEWS ALERTS - New York knew this in April. Why is SB1199 HFA2 now sandbagging IL small biz?

— Chicago Bars (@chicagobars) January 13, 2021
It was a busy year, but this issue was identified by many other states and reported on by public finance outlets many, many months ago. https://t.co/Z6wKZC47DN

— Chicago Bars (@chicagobars) January 13, 2021
17 Comments


















































Sorry, comments for this post are now closed.