* From Rep. Anne Stava-Murray's (D-Naperville) official Facebook page…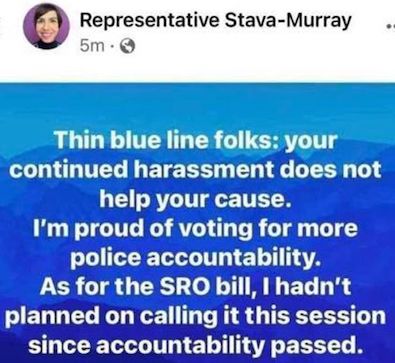 * Daily Herald…
A Facebook page maintained by Downers Grove Democratic state Rep. Anne Stava-Murray as a forum for her legislative work has apparently been deactivated.

The account's disappearance followed a lengthy online squabble over a post Stava-Murray made following her vote in support of a criminal justice reform bill the state legislature approved and was sent to the governor's desk Wednesday as well as a bill she proposed to remove police officers from schools. […]

The post received largely negative responses from those who responded to it, many complaining the legislator wasn't following the will of her constituents. […]

Posters began attacking the representative on her personal Facebook page after her legislative page was shuttered.
* It's now back online…
Yeah. It was just a "squabble" with some "negative responses." Do better, Daily Herald.
* Meanwhile…
They beat a cop with a flagpole attached to a blue lives matter flag pic.twitter.com/DCDIEgO1Ae

— Nader Issa (@NaderDIssa) January 15, 2021
…Adding… Press release…
Duckworth to Facebook: Stop Advertising Military Gear Next to Posts about the January 6th Insurrection

Following last week's violent insurrection at the U.S. Capitol, combat Veteran and U.S. Senator Tammy Duckworth (D-IL), a member of the U.S. Senate Committee on Commerce, Science and Transportation and the U.S. Senate Armed Services Committee (SASC), who served in the Reserve Forces for 23 years, sent a letter to Facebook CEO Mark Zuckerberg calling on him to immediately remove advertisements from companies promoting and selling products that could equip white nationalists, neo-Nazis and other domestic extremists groups. Duckworth is demanding that Facebook take responsibility for giving organizations and individuals that engaged in insurrection and seditious conspiracy a platform and operational tool. She is also calling on Facebook to immediately conduct a review into its role in supporting, aiding or hosting individuals and organizations that attacked the United States Capitol and to strengthen its corporate governance by adding to its Board of Directors a subject matter expert in violent online extremism and domestic terrorism. Duckworth was joined by Senators Richard Blumenthal (D-CT) and Sherrod Brown (D-OH) on this letter.

In part, the Senators wrote: "Facebook must hold itself accountable for how domestic enemies of the United States have used the company's products and platform to further their own illicit aims. Whether through negligence or with full knowledge, Facebook is placing profit ahead of our Nation's democracy. Advertisements of semi-automatic rifles and body armor appearing alongside of news coverage of the January 6, 2021 deadly violent insurrection are outrageous."

They continued: "Facebook must disavow and actively shun customers that sought to block the execution of the Electoral Count Act. We hope that you share our outrage over the chilling reality that violent insurrectionists and seditionists inflicted death and injury against law enforcement that renders the peaceful transfer of power an impossibility."
21 Comments






























































Sorry, comments for this post are now closed.