* From the House GOP Leader…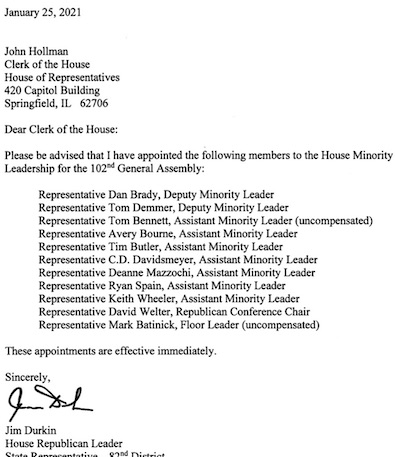 * Press release…
State Rep. David Allen Welter, R-Morris, has been appointed House Republican Conference Chairperson for the 102nd General Assembly. At age 29, Welter joins Rep. Avery Bourne R-Morrisonville, as the youngest members of the House leadership team. Welter has represented Illinois' 75th District since July 2016 serving portions of Grundy, Kendall, LaSalle and Will Counties.

Rep. Welter issued the following statement upon his appointment:

"I am honored to have been selected to join the House Republican Leadership Team. I believe Leader Durkin has shown he is committed to not just the future of our party but also our state with his announcement today. I look forward to using my influence to advocate for a broad energy package which will make Illinois a leader in competitive and reliable energy for generations to come. If we choose to lead together, both Democrats and Republicans, there is no challenge we cannot face, no obstacle we cannot overcome if we are united for the common good. I have shown to be effective working across the aisle, and I will continue to do that when I believe it benefits our area and our state."

Rep. Welter's 's appointment was announced on Monday by House Minority Leader Jim Durkin, R-Western Springs: "As the former Grundy County Chairman at the age of 23, David has proven to be a longstanding advocate for the principles of the House Republican caucus and the values of his district. David recently was involved in the House investigations on the deadly outbreak at the LaSalle Veterans Home. His thorough questioning of the Illinois Department of Veterans Affairs has pushed the investigation into the right direction. We look forward to David bringing that dedication and energy to the House Republican Leadership team."

Prior to his appointment to the Illinois General Assembly in 2016, Welter served as Chairman of the Grundy County Board, to which he was first elected in 2010. His private sector experience includes work as the Human Resources Manager for Illinois Truck & Equipment. Welter is also currently a licensed real estate agent practicing in Morris.

Rep. Welter resides in Morris with his wife, Ashley, and their three children.
Keep an eye on that young man.
27 Comments
















































































Sorry, comments for this post are now closed.