* Institute of Government and Public Affairs…
The University of Illinois Flash Index continued its slow recovery in January, rising to 96.3 from its 95.9 level in December. This is well below the pre-COVID-19 level, but it is the highest reading since March 2020.

The January results suggest only modest gains for the economy because of the resurgence of the COVID-19 virus with the accompanying mandated closures. The index remains below the 100-dividing line between growth and decline.

"The availability of various vaccines has yet to have a significant impact on the spread of the virus," said University of Illinois economist J. Fred Giertz, who compiles the monthly index for the University of Illinois System's Institute of Government and Public Affairs (IGPA). "However, many observers believe the economy is on the cusp of a major resurgence resulting from the eventual effectiveness of the vaccine program along with strong pent-up demand in the economy."

The unprecedented intervention of both the past and current administrations has created strong untapped demand that may be unloosed once the economy fully reopens. While the long-term impacts of the stimulus may be problematic, the short-term effects are strongly positive, Giertz said. See the full Flash Index archive.

Recent indicators for Illinois have been mixed. Unemployment has increased slightly while revenues have remained strong. For January, all three components of the index (corporate, individual income and sales tax receipts) exceeded the levels of the same month in 2020 after adjusting for inflation. Since the advent of the crisis, receipts for Illinois' three major taxes have been below pre-crisis forecasts, but well above post-crisis predictions of a revenue disaster. This was confirmed by a recent IGPA study.

The Flash Index is normally a weighted average of Illinois growth rates in corporate earnings, consumer spending and personal income as estimated from receipts for corporate income, individual income, and retail sales taxes. These are adjusted for inflation before growth rates are calculated. The growth rate for each component is then calculated for the 12-month period using data through January 31, 2020. Ad hoc adjustments have been made to deal with the timing of the tax receipts resulting from state and Federal changes in payment dates beginning in March.
* Oy…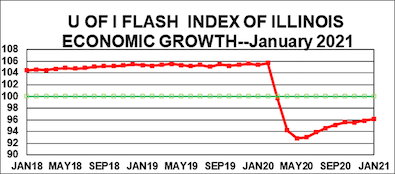 1 Comment
- Michelle Flaherty - Monday, Feb 1, 21 @ 12:46 pm:

"Flash Index" was going to be the name of the college speed metal band J. Fred and I always talked about. Nice to see he got some use outta the name.

"Rises Slightly" would have been our first album.



Sorry, comments for this post are now closed.