* First, some background from NBC News…
Out of power and divided about their future, Republicans see an opportunity to begin winning back the suburban voters they lost under Donald Trump's presidency by capitalizing on widespread frustration with pandemic life and directing it at an old enemy: teachers unions. […]

Seeking to protect members, particularly older teachers, from contracting Covid-19, some teachers unions have pushed for no return to in-person learning until teachers can be vaccinated, while others have demanded additional safety measures — ranging from better ventilation to increased cleaning — before agreeing to a return. […]

But the frustration over shuttered schools, kids being kept home and other Covid-19 restrictions are real and even some progressives say the unions are overreaching. (Chicago Mayor Lori Lightfoot accused them of wanting to "take over" not just the schools, but also the city.) And Republicans think they can channel that anger into a grassroots uprising to drive a wedge between suburban voters and the Democratic Party. […]

Democrats and union leaders say they are unconcerned with the GOP strategy, noting widespread vaccination should allow schools to almost completely reopen before any major elections.

They point to a string of recent polls that show support for teachers unions has, if anything, grown slightly during the pandemic. Many Republicans, they add, are publicly opposed to Biden's stimulus plan, which they say would accelerate school openings.
The "progressive" label on Mayor Lightfoot would be news to a lot of Chicago progressives. Also, in Illinois, school districts make their own decisions about reopening under certain guidelines, like mask requirements. And while public health experts say schools should be reopened, there are always some major caveats that schools may not be able to meet (like adequate ventilation, for instance). Not to mention that for decades the GOP has demanded "local control" over schools.
* OK, with that in mind, here's the NRSC…
Senator Duckworth has remained completely silent on reopening schools, choosing to cower to the teachers unions that fund her campaign rather than fight for students across the country.

Democrats stated on the campaign trail that scientists and Center for Disease Control (CDC) officials should make the determination on how and when America's children should return to school. After numerous scientific studies, over $80 billion invested into making schools safer, and clear guidance from CDC officials, the answer is clear: the time to return to school is now.

When given an opportunity to put her money where her mouth is, Senator Duckworth has gone mute.

Statement from NRSC Chairman, Senator Rick Scott: "So much for 'following the science.' Classrooms are among the safest places in the country for children and teachers and the consequences of keeping children away from in-person learning are incalculable. In the face of overwhelming evidence, Senator Duckworth refuses to speak out against the union bosses and support reopening our schools. She's gone completely mute. The question every Illinois voter should be asking is, 'why does our Senator fight for teachers unions instead of our kids?'"
* The digital ad…
…Adding… With a hat tip to a commenter, here's a recent poll…
55% of GOP voters said schools should be reopened even if all teachers aren't inoculated, while 74% of Democrats said schools should wait.

48% of all voters approve of President Biden's handling of education issues, but the share who disapprove has increased 4 points over two weeks, to 32%.

Democrats, Republicans most likely to agree on trusting local school administrators, boards of education with the issue of in-person fall classes.
…Adding… Where Illinois school districts currently stand…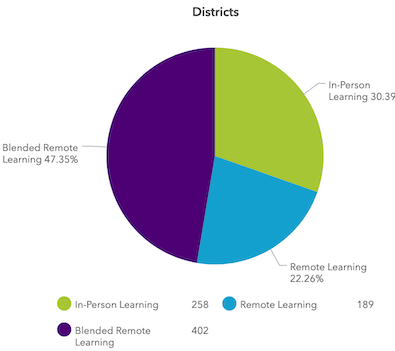 27 Comments
















































































Sorry, comments for this post are now closed.