* The official letter…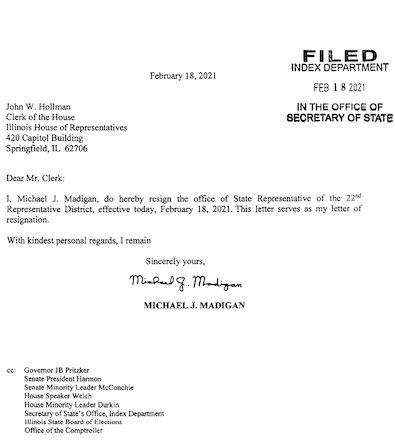 *** UPDATE 1 *** As subscribers know, there was an attempt to slow this down today. Didn't work. MJM gonna MJM. Looks like no Latino replacement…
NEW: Sunday 10am Committeemen will meet to choose Madigan successor, hearing Madigan's favorite to replace him appears to be 13th Ward Superintendent Moeen Zahdan, however this may not sit well with those who want a Latino chosen #MadiganResigns

— Mary Ann Ahern (@MaryAnnAhernNBC) February 18, 2021
Madigan has more than half the weighted vote, so the other committeepersons don't really matter.
*** UPDATE 2 *** Here's the meeting notice…
WHAT:
Committee hearing to seek a replacement to the 22nd Illinois House District seat.

WHO:
Anyone interested in seeking to serve as state representative in the 22nd Illinois House District seat can present their resumes and field questions from constituents.

WHERE:
Balzekas Museum ballroom
6500 S. Pulaski Rd.
2nd Fl. North
Chicago, IL 60629

WHEN:
Sunday, Feb. 21
10 a.m.
His district/ward/campaign offices are in the museum building.
*** UPDATE 3 *** Press release…
Congresswoman Marie Newman gave the following statement regarding the resignation of Michael Madigan and the forthcoming process to appoint a successor to his 22nd District State House seat.

"For the first time in more than half a century, Chicago's Southwest Side will have a brand new state representative. Public officials at every level of government have a fundamental obligation to ensure the voices of 22nd District residents are heard loud and clear when choosing Michael Madigan's successor. We cannot allow history to repeat itself. Allowing this Individual to handpick his own successor not only shortchanges our residents and effectively shuts them out of the process but also discredits any sense of transparency and inclusion that our government strives for. It is absolutely imperative that this process is open and transparent and that the public is involved at every step so we can finally ensure that the residents of the 22nd District receive the representation they deserve."
*** UPDATE 4 *** As I just told subscribers, 13th Ward Ald. Marty Quinn says Moe Zahdan will not be getting the appointment.
26 Comments













































































Sorry, comments for this post are now closed.