* Press release…
The February University of Illinois Flash Index rose to 96.6 from its 96.3 level in January. Last year's February 2020 reading of 105.7 was the last reading above the 100-dividing line that indicates growth before the COVID-19 crisis caused the index to plummet to 92.8.

"Although the Flash Index does not predict the future, most signs suggest that both Illinois and the nation are on the verge of a strong economic expansion," said University of Illinois economist J. Fred Giertz, who compiles the monthly index for the University of Illinois System's Institute of Government and Public Affairs (IGPA). "The shutdowns and the threat of the virus suppressed demand. The return to near-normal anticipated in the next few months with the availability of various vaccines and the likelihood of additional federal stimulus spending are expected to unleash some of that pent-up demand."

Like last month, the indicators for Illinois were mixed, with unemployment increasing while tax revenues remained strong. All three components of the index (corporate, individual income and sales tax receipts) exceeded the levels of the same month in 2020 after adjusting for inflation even though last year's numbers were not impacted by the health emergency.

The Flash Index is normally a weighted average of Illinois growth rates in corporate earnings, consumer spending and personal income as estimated from receipts for corporate income, individual income, and retail sales taxes. These are adjusted for inflation before growth rates are calculated. The growth rate for each component is then calculated for the 12-month period using data through February 28, 2021. Ad hoc adjustments have been made to deal with the timing of the tax receipts resulting from state and Federal changes in payment dates beginning in March.
* Graph…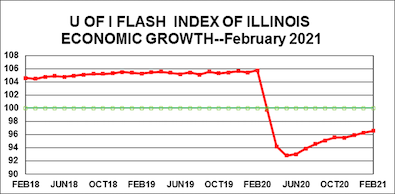 12 Comments



































Sorry, comments for this post are now closed.