* The Republicans don't have a single statewide officeholder in Illinois. They are vastly outnumbered in the congressional delegation, where their party is in the minority in both chambers. And, of course, the GOP is in the super-minority in both state legislative chambers.
There is something that Illinois Republican Party leaders can and should do to help their state right now, though: Encourage their fellow Republicans to get vaccinated….
But a new national poll found that vaccine hesitancy may be more political than racial. The poll, conducted by Civiqs, found that 56% of white Republican voters reported they would not accept a vaccine or weren't sure, compared to only [29]% of Black voters who answered the poll. Other polls have found that as many as 35% of Black Americans have reported vaccine hesitancy.
The poll found that 41 percent of white Republicans said they would not take the vaccine and 14 percent were unsure, while 15 percent of Black voters said they won't take the vaccine and 14 percent were unsure.
* And it's not just one poll. CBS News survey of 1,500 adult citizens in the U.S. was conducted by YouGov between February 21-24, 2021…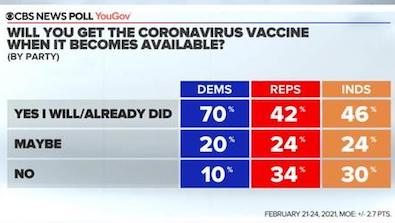 * Monmouth national poll…
Democrats are most eager to get the vaccine as soon as possible (72% when combined with those who already got the vaccine) – much more so than independents (51%) and Republicans (39%). More than 4 in 10 Republicans (42%) say they will avoid ever getting the vaccine if they can, which is significantly higher than the number of independents (25%) and Democrats (10%) who feel the same.
* Colorado registered voters also taken last month…
Only 29% of Republicans, however, said they'd get a coronavirus vaccine, according to the poll. Meanwhile, 57% said they would not get inoculated while 12% said they were undecided.
* Oregon…
According to polling figures released in January by Oregon Business & Industry, 48% of Republicans in the state were willing to get vaccinated compared with 88% of Democrats.
* Michigan…
The poll released Tuesday also found that while large percentages of self-identified Democrats and independents plan to get vaccinated, nearly half of Republicans — 47% — do not, compared with 46% who plan to be vaccinated.
16 Comments















































Sorry, comments for this post are now closed.