[The following is a paid advertisement.]
Are we going to continue with political maps hammered out in backroom deals or are our lawmakers ready to strive for the ideals set out by President Obama?
"The movement for fair maps will determine the course of progress on every issue we care about for the next decade." - August, 2019
"I think people don't completely appreciate how much gerrymandering affects the outcome [of elections]," Obama said. "You can draw a district that almost guarantees one party is going to win instead of another because you have voter histories and you have a sense of where people are typically going to vote." - September, 2020
"I'd love to see changes at the state level that reduce political gerrymandering." - January, 2015

"Regardless of our party affiliations," he says, gerrymandering is "not good for our democracy." - July, 2018
"We have to end the practice of drawing our congressional districts so that politicians can pick their voters and not the other way around." - January, 2016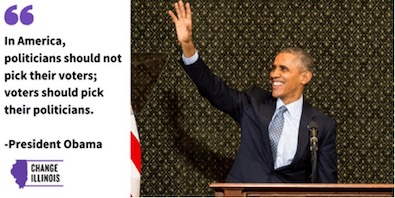 Learn more at CHANGEIL.org.
- Posted by Advertising Department


No Comments
Be the first to comment.
Sorry, comments for this post are now closed.