* I'm coming a day late to this. Sorry. Here's the New York Times…
Even as the economy shows signs of rebounding, employers continue to lay off large numbers of workers, a sign of how long it will take for the job market to recover fully from the pandemic.

The pressure was evident Thursday with a new report from the Labor Department showing a rise in initial jobless claims last week after a big drop the previous week. […]

A jump in claims after the devastating winter storms in Texas contributed to the increase last week, but the weakness was broad-based. […]

A total of 748,000 workers filed first-time claims for unemployment benefits in the week that ended Saturday, 32,000 higher than the week before. In addition, 437,000 new claims were filed for Pandemic Unemployment Assistance, a federal program covering freelancers, part-timers and others who do not routinely qualify for state benefits, a rise of 9,000.
* CBS 2…
The Illinois Department of Employment Security (IDES) reported 68,111 new unemployment claims were filed last week, only a slight decrease from the previous week, when 68,383 people filed.

However, it's still a huge spike from the same timeframe last year, when 8,980 people filed claims in Illinois. That's a 658% increase.
* US Department of Labor…
The highest insured unemployment rates in the week ending February 13 were in Pennsylvania (6.3), Alaska (5.7), Nevada (5.4), Rhode Island (5.1), Connecticut (4.9), New York (4.9), the Virgin Islands (4.9), California (4.7), Illinois (4.7), and New Mexico (4.6).

The largest increases in initial claims for the week ending February 20 were in Illinois (+6,014), Missouri (+5,624), Tennessee (+3,987), Mississippi (+3,266), and Colorado (+2,842), while the largest decreases were in California (-49,138), Ohio (-45,189), New York (-9,117), Idaho (-5,111), and Michigan (-3,942).
* National chart…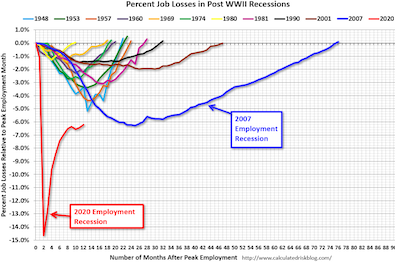 Long way to go.
* In other news, some House committees met jointly yesterday to query IDES Acting Director Kristin Richards…
Rep. Will Davis (D-Hazel Crest) emphasized the department clearly needs more employees answering calls and IDES should look into recruiting people desperate to get back to work.

"I mean, we have people who are waiting or looking for jobs because they're unemployed," Davis said. "How many of those people were given the opportunity to work at one of these call centers?"

"I would have to honestly ask the recruitment teams the extent to which they're recruiting that out to the unemployment population," Richards answered. "But, these are jobs that are out there that are available."

However, Richards also noted IDES can't circumvent state and federal hiring guidelines. For example, when the department posted call center vacancies in April, officials didn't bring those new employees into the call center until September. Still, lawmakers from both sides of the aisle stressed their staff haven't received calls back or answers from IDES in a proper manner.
OK, so it takes 5 months to put people on the job, apparently. But this crisis has lasted a year. A larger, quicker ramp-up could've been done.
* Related…
* Senate Democrats Agree To Extend Unemployment Benefits Through September: The version of the legislation that passed the House would have increased the payments to $400 per week through the end of August. The change is a compromise between progressive members who wanted enhanced benefits for several more months and moderate Democrats who wanted to curb the weekly payments. The updated version of the bill would make the first $10,200 of unemployment benefits received in 2020 nontaxable.

* About 40,000 people just lost unemployment benefits in Illinois. Here's why, and who will lose them next.

* Some filing for extended benefits have trouble reaching IDES: "Unfortunately, when this law was passed, Congress enacted the bill on Dec. 21. But President Trump delayed signing law until Dec. 27, which allowed those benefits to lapse and it's not as easy to reinstate those programs, especially once people exhaust benefits. It's not as easy as flipping a switch, it can take weeks of coding," explained Alexa Tapia of the National Employment Law Project. She says most states are having this problem.

* Despite Unemployment Numbers, Illinois Per Capita Income Climbed In 2020 During COVID-19 Pandemic
6 Comments

















Sorry, comments for this post are now closed.