* Edgar County Watchdogs…
It has come to our attention that the Village of Poplar Grove has been using its official Facebook page for electioneering purposes - in favor of the current Village President, Owen Costanza.

Use of official government communications, like email and social media, for electioneering purposes, is wrong and we urge residents of Poplar Grove to file an official complaint to either the Village's Ethics Commission (if there is one) or the Illinois State Board of Elections.

This gives an unfair disadvantage to other candidates and gives the impression that the Village is taking sides in the upcoming election. No amount of couching it as an informative listening session or "coffee talk" while advertising it as a "Re-elect Costanza" event could bring it into compliance.

These advertisements also pulled Illinois State Representative Joe Sosnowski into the electioneering issue, since his name is listed as a speaker at this event. He should have known better.
*** UPDATE *** Press release…
State Representative Joe Sosnowski, R-Rockford, issued the following statement today in response to the coffee he hosted in Boone County earlier this week at which Poplar Grove Village President Owen Costanza was a guest:

"The Coffee Talk held at the Boone County Family Restaurant on March 8 was my event, organized by my legislative office as an opportunity for me to update constituents on state issues and listen to feedback from members of the community. As a benefit to constituents, I invited Poplar Grove Village President Owen Costanza to be a guest at the coffee. I have spoken with Village President Costanza, and he has acknowledged that he accidentally shared an invitation on the Village's Facebook page with his political logo attached to it, making it appear that the event was sponsored by his campaign. Upon being made aware, he immediately removed the image.

"I will take additional precautions when scheduling these events in the future to ensure that all are aware that these are official events not to be associated in any way with an individual campaign or political purpose."
* Not good…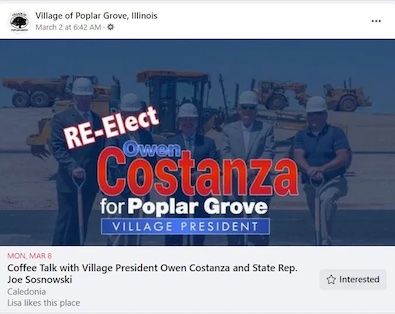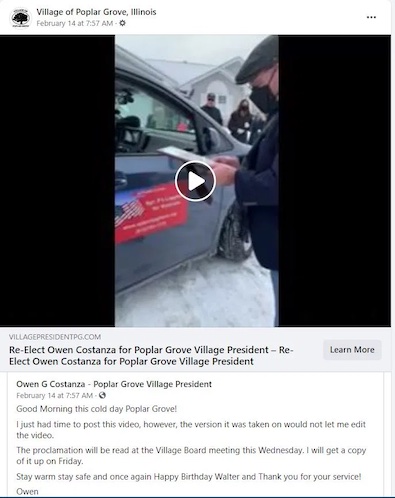 * Meanwhile, from the BGA…
Nearly a year-and-a-half after federal agents raided Lyons Village Hall as part of a sweeping corruption investigation, clean government has become a top issue in the west suburb's upcoming election as controversial Mayor Chris Getty seeks a fourth term.

Getty, the son of a former mayor who went to federal prison for stealing from the village, is fending off a challenge from residents vowing reform. At the same time, the current mayor has spent nearly $100,000 in campaign funds on legal fees as part of the wide-ranging probe that has hit suburban mayors, state lawmakers, contractors and utility giant Commonwealth Edison.

At stake for Getty is not only maintaining his political power and access to campaign cash, but a significant payday. Should Getty win, he stands to make at least $70,000 in salary for each of the next four years as mayor and liquor commissioner. That's compared to $10,000 he made in both jobs when he was first elected in 2009. The salaries have been growing steadily since Getty himself pushed the pay hikes through a compliant Lyons Village Board. With insurance and retirement, his total compensation at the end of 2021 will exceed $109,000.

Richard Gatz Jr., a longtime resident of the working-class suburb who was a village board member nearly 20 years ago, is running for mayor along with a slate of board member and clerk candidates on the Village Integrity Party ticket.
18 Comments





















































Sorry, comments for this post are now closed.