* Oy…
Though its historic 2019 capital infrastructure plan was estimated to boost Illinois' state transportation revenues by almost $2 billion dollars annually, state transportation and transit agency revenue generated $1 billion less than expected over the past year due to pandemic-related declines in fuel consumption, sales taxes, and transit ridership, according to a new study by the non-partisan Illinois Economic Policy Institute (ILEPI). […]

The state's major transportation revenue streams—motor fuel taxes and transit system fees—saw their steepest declines in the two months immediately following the state's March 21st stay-at-home order. During this period, statewide vehicle miles traveled (VMT) were as much as 40% less in 2020 compared to 2019. The state's overall VMT finished the first year of the pandemic down 15% compared with pre-pandemic levels, and ridership for various Chicago area transit systems fell an average of between 50% and 90%. As of yet, neither has recovered back to pre-pandemic levels.

"Because the historic Rebuild Illinois plan doubled the motor fuel tax, the good news is that despite the drop in VMT, Illinois is still generating $800 million more in gas tax revenue than it was prior to the passage of the capital plan," [ILEPI Transportation Analyst Mary Tyler] added. "The bad news is that because of the decrease in VMT, gas tax revenue still ended up being $308 million less than was projected pre-pandemic." […]

"According to publicly available data, local sales taxes generated $96 million less for the RTA between March and November 2020 compared with the year prior," Tyler added. "And combined farebox revenue from the CTA, Pace, and Metra generated $645 million less in 2020 compared to 2019." […]

"According to the U.S. Census Bureau, 35% of Illinois workers who commuted prior to the pandemic are now working from home," Tyler said.
The study is here.
* Graphs…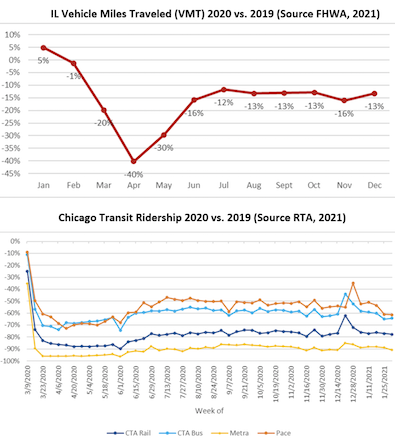 * Meanwhile, from WTTW…
According to BOMA, between 88% and 92% of workers who would normally be in their office are still not back. The rate of office subleases is at an all-time high. And the Chicago Tribune reports the overall Loop office building vacancy rate is 15% and could go higher. […]

"The experience of the office and your experience downtown is going to need to shift and change," said Sheryle Shultze, who leads repositioning and landlord services for the design firm Gensler.

A survey the company published revealed that 70% of respondents plan to go back to the office, all or most of the week, while 30% said they wanted flexible work schedules.
* CBS 2…
a survey of chief executive officers from KPMG, which said last August, 69 percent said they would downsize their company's physical space. When asked this spring, it was down to just 17 percent.
23 Comments




































































Sorry, comments for this post are now closed.