* February…
Will County Republicans voted overwhelmingly Thursday night to censure Rep. Adam Kinzinger for his vote to impeach former President Donald Trump.

The 111 to 5 vote (and one abstention) for censure "is meant to remind the representative who he represents: the people who elected him, not his self-interests," said Will County Republican Chairman George Pearson, adding that Kinzinger's decision to start a PAC that "goes against other Republicans was a betrayal." Pearson said his next task is to find a challenger for Kinzinger's seat.
* An April 13 letter from Will County Republican Central Committee (WCRCC) Chair George Pearson to GOP township chairs in his county…
Fellow Chairs,

The WCRCC has received two (2) notices from our landlord and the Lockport Township Organization's former chair. I entered the office today to find both notices on my desk.

The first, more pressing, is an eviction notice for rent in the rears of $6,000.00. Due to the Central Committee not having our first quarter fundraiser, we have not met our obligations. I have sent out multiple fundraising letters and have received promises but no checks as of yet. The question becomes, do we push to keep the space or vacate our location in Crest Hill?

Between our townships, can we raise the cash between us to cover? A committee has been formed to create a fundraiser on June 18th, the "Freedom Dinner" with possible guest speakers of Texas State Party Chair Col. Allen West (Ret.) or North Carolina Lt. Governor Mark Robinson. Both I know will draw big crowds.

I, for one, appreciate having an office to conduct our business and store signs for our candidates during races. Voters have enjoyed having a place to come in and learn about the issues. We have hosted several training classes and a few township organization meetings. I am asking for your assistance in keeping our location. What say you?

The second notice is more troubling than anything. Pete Delany (former Lockport Township Republican Chair) has reversed his original donation to the Central Committee of the office furniture in lieu of their rent. Pete Delany did a verbal deal with me for the work in the space like painting, striping, and waxing the floors as well as donating the furniture in lieu of rent contribution for LTRO utilizing the space for their meetings. The former chair of Lockport Republicans is displaying his anger over his slate lost during his December caucus. That slate also had a democrat elected at their caucus who neither side bothered to check his voting record. The Lockport Republican slate on the ballot (represented by Jim Louch - Lockport Township High Commissioner) had more people show up to the Lockport caucus and passed rules that favored the "visiting" team. That pushed Pete Delany (former chair), the new chair, Bill Passiglia, and their new vice-chair, Ed Piante, to promote the Democrat slate in Lockport Township. After multiple meetings with Pete, Jim, and Jessica Cannady, an offer was made to Pete's wife, Barb Delany, to join Jim Louch's slate, the Delanys refused. That caused some extremely tight races in Lockport, which gave the Democrats an advantage for most of the seats. The Delany's, Bill Passaglia, and Ed Piante all displayed Democrat signs on their lawns. Now, I get a notice from Pete stating he is giving the furniture to LTRO, when two months ago, he was trying to give it away to Joel Johnston, the guy renting space in the back of our office.

If we are moving with keeping the office, I would like to make an offer to Pete to finalize a written agreement for the furniture issue with Pete.

What say you all?
What say you?
…Adding… Welp…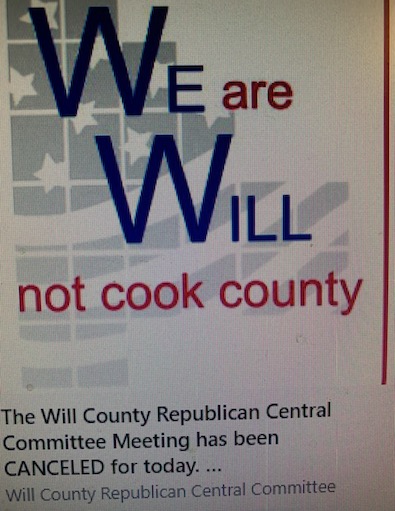 29 Comments






















































































Sorry, comments for this post are now closed.