* Kewanee Star-Courier on Monday…
By 5:30 p.m. on Saturday, almost 100 area residents had arrived at The Stables on the edge of Kewanee for a meet-and-greet event with Illinois State Sen. Darren Bailey (R-Xenia), who recently announced a bid to run for governor. […]

"I feel very strongly that he's a devout Christian and he could do some good. He's got a good following with the Democratic Party as well, because he wants to make a difference," [the spouse of the Kewanee mayor, Jeanna Moore] said.

The relationship forged early on between Bailey and the Moores has led to a position within Bailey's campaign for Jeanna. The Kewanee couple not only hosted the meet and greet event in Kewanee, but Jeanna is acting as campaign coordinator for the Henry County area. Her future plans include a possible fundraiser for Bailey sometime this summer. […]

"It's really busy right now," said Bailey, after arriving at the event. "I'm taking advantage of the weekends. There's a lot of people that want to meet with me," he said, peering out at the maskless crowd that had assembled to do just that. "I want to listen to the concerns and ideas of the people across Illinois."

Kewanee wasn't even Bailey's last stop for the night, he said. He was scheduled for an event in Moline later before heading back home for church on Sunday and back to Chicago on Monday.
Photo of the event's buffet from the story…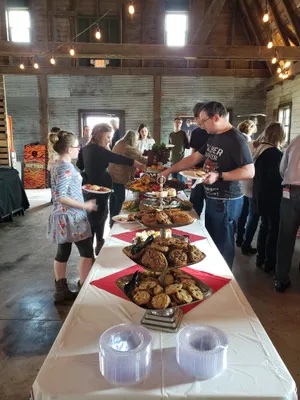 * Kewanee Star-Courier today…
Henry County health officials say a political event held locally over the weekend likely violated the state's rules for large gatherings.

"The (county) Office of Emergency Management has been informed about the event and they will be fielding and addressing any complaints," said Health Department Spokeswoman RaeAnn Tucker-Marshall following a Star Courier inquiry Monday.

The Saturday meet-and-greet for Republican gubernatorial candidate Sen. Darren Bailey attracted around 100 people to The Stables banquet center just outside Kewanee.

But according to health officials, that's about 50 more than were supposed to be gathering in a confined space under the current Phase 4 mitigation regulations. The health department also noted issues with the food service setup, the rules which require hand-sanitizers at each end of the service table — none of which are evident in a photo that ran with the story. Only the food service workers at the event, from The Station restaurant, were required to wear masks. […]

Bailey's local campaign chairman Jeanna Moore accused the Star Courier Monday of purposefully running the photograph of the buffet in an effort to draw the attention of health officials, an accusation the newspaper denies.
Yeah, it's a bonafide conspiracy, I tell 'ya. Real deep state stuff right there propagated by the fake news, for sure.
30 Comments

























































































Sorry, comments for this post are now closed.