* GTI is one of the biggest cannabis companies in Illinois…
April 29, 2021

Dear Chairman John Sullivan [at Cresco Labs], Executive Director Pam Althoff and the CBAI Executive Committee:

After being part of the Cannabis Business Association of Illinois since it started six years ago, we have made the decision to withdraw our membership and leave the association as of today.

We do not agree with the direction of the association or the focus that the governing body has established. We believe that expanding industry ownership and opportunity to new and diverse entrepreneurs should be CBAI's top priority, along with addressing the cultivation side of the Industry. We have fundamental issues with several of the association's self-interested initiatives. We do not want to be a thorn in CBAI's side as membership seems aligned with your priorities, or at least willing to go along with them.

Given that Illinois is in the early innings of an adult use program, we expect change ahead. Dina Rollman and I are plugged in and around to help. If you would like to work with Dina on the social equity or cultivation priorities, please be in touch.

In the meantime, we will agree to disagree. Green Thumb's main priority in Illinois is to increase diversity in ownership and create meaningful economic opportunities for minorities within the cannabis industry. I believe that if you talk the talk, you must the walk the walk. There is virtually no minority representation in our cannabis business community and our team is going to focus on being part of the solution. We believe Illinois still has the chance to lead by example.

Respectfully,
Ben Kovler
CEO
Green Thumb Industries
The House Executive Committee is meeting this morning, so this should make things interesting.
* I'm told that Kovler is legit and is a major believer in equity. From his Twitter account…
Illinois needs leadership. The Governor's office punts all responsibility, looks to lawmakers to solve the problem the executive branch created.

"Pritzker's office did not respond to a request for comment."

We can do better in NY, NJ, CT, MD, PA…https://t.co/JiIIrj8NuM

— Ben Kovler (@Bkov9) April 24, 2021
* A provision in state law forbids new cannabis dispensaries from being located less than 1,500 feet to an existing dispensary. This has created what advocates and people like Kovler are calling "social equity exclusion zones." Check 'em out…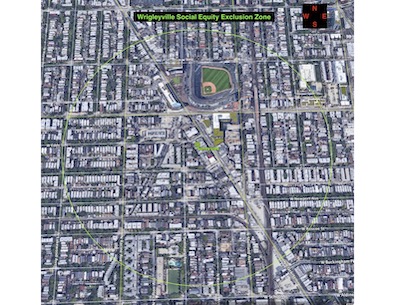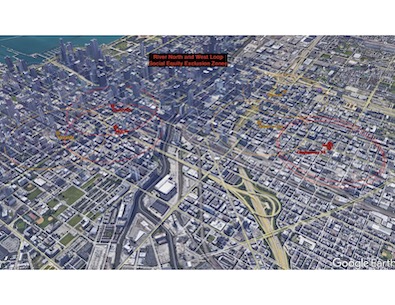 * Related…
* Chicago-based marijuana giant part of federal pay-to-play investigation

* Green Thumb Industries Responds to Baseless Allegations by Chicago Tribune
…Adding… CBAI…
The Cannabis Business Association of Illinois believes social equity licenses must be issued as soon as possible and the General Assembly should focus on ensuring any change to cannabis law puts awards for social equity applicants at the forefront. This is no time for distractions. We have made clear that any negotiations on the law should occur between the General Assembly and the social equity applicants who have had their lives on hold waiting for licenses to be awarded.

CBAI has taken decisive action to ensure that social equity applicants have the best chance of success entering the marketplace:

• The CBAI Minority Access Committee, wholly comprised of social equity applicants, is negotiating with members of the General Assembly and other social equity groups on the association's behalf for legislation that advances the interests of minority applicants.
• CBAI prioritizes issuing licenses to social equity applicants above all other changes in cannabis law, and continues to call on the Pritzker administration to focus its efforts on getting licenses into the hands of those the law was designed to help.
• CBAI has called for the State of Illinois to reimburse social equity applicants for costs associated with the delay in awarding licenses.
• CBAI incubates, coaches and mentors social equity applicants and established the Minority Business Associate Membership to give minorities a stronger voice in our association and in the industry statewide.

From the moment the cannabis bill became law, CBAI has advocated for policies that provide greater ownership opportunities for minority cannabis entrepreneurs, including set-aside licenses, innovative incubation and co-location programs, and omnibus legislative packages that would move the state forward on awarding social equity licenses.
17 Comments


















































Sorry, comments for this post are now closed.