* Institute of Government and Public Affairs…
The April University of Illinois Flash Index jumped to 101.5 from its 97.8 level in March, roaring past the 100-level that divides growth and decline.

This increase was the largest in the history of the index, although the declines of March and April 2020 at the beginning of the COVID-19 crisis were larger in absolute terms. See the full Flash Index Archive.

As with last month, the strong April reading was the result of both a strong economy and certain technical factors. "The index's monthly inputs are now being compared to the depressed numbers of last year, indicating marked growth," said University of Illinois economist J. Fred Giertz, who compiles the monthly index for the University of Illinois System's Institute of Government and Public Affairs (IGPA). "In fact, the April index may underestimate growth because some of the various federal stimulus payments are not directly included in the index's components." In constructing the index, individual Illinois income tax collections are used as a surrogate for income, but many of these federal payments are not taxable and do not directly impact tax receipts.

Notwithstanding these technical issues, the Illinois and national economies are exhibiting real strength. Analysts are nearly unanimous in their optimism for the remainder of 2021. First-quarter GDP increased at a 6.4% annual rate. The unemployment rate continues to decline, although it is still more than two percentage points above pre-crisis levels. The unprecedented magnitude of federal income support programs may be slowing the decline.

Illinois' unemployment rate is still more than one percentage point above the national rate. All three components of the index (individual income, corporate and sales tax receipts) were up strongly from the same month last year.

The Flash Index is normally a weighted average of Illinois growth rates in corporate earnings, consumer spending and personal income as estimated from receipts for corporate income, individual income, and retail sales taxes. These are adjusted for inflation before growth rates are calculated. The growth rate for each component is then calculated for the 12-month period using data through April 30, 2021.

Even though more than a year has passed since the advent of the crisis, ad hoc adjustments are still needed to deal with the timing of the tax receipts resulting from state and Federal changes in payment dates both this and last year.
* Recent history…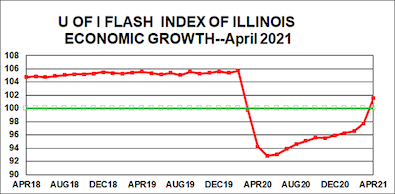 Note the caveat, however: "the declines of March and April 2020 at the beginning of the COVID-19 crisis were larger in absolute terms."
18 Comments





















































Sorry, comments for this post are now closed.