* Capitol Fax readers voted 86 percent to 14 percent that Ald. Moore's campaign kickoff idea to put ads on license plates was a no-go. And now, this…
Just days after announcing his candidacy for the Democratic nomination for secretary of state, South Side Ald. David Moore was admonished by the city Board of Ethics for using the official government 17th Ward Facebook account to campaign for the statewide office.

In a letter written Monday, two days after his formal campaign announcement, the ethics board warned Moore he faced potential fines for mixing posts about his secretary of state candidacy with posts regarding city services and events in his ward. […]

Moore, in a statement, said he makes it a point to "abide by the rules" and had taken corrective action. But he also indicated he felt singled out by a policy others on the council ignore.

"We were even told in those (ethics) sessions that we couldn't use our official title. Over the last year, I saw this being ignored many times," he said.
* From the letter…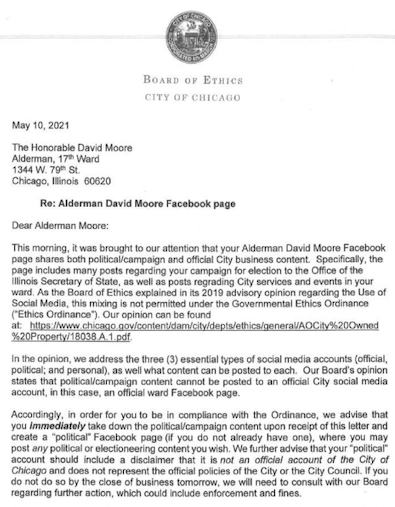 9 Comments


























Sorry, comments for this post are now closed.