* It's almost the two-year mark for Chicago Mayor Lori Lightfoot, so analyses abound. I'll just focus on my lane. Here's Greg Hinz…
One place adjustment clearly is needed is Springfield. Despite a big win in finally getting permission to build a casino—something her predecessors could only dream about—the mayor's team constantly jostles with Pritzker's. With her friend John Cullerton no longer the Senate president, Lightfoot suffered a series of humiliating defeats, including being routed on a bill that will raise pensions for some firefighters at a difficult time, dropping plans for a tax hike she wanted for affordable housing and struggling to save her power on the school board.

The advice from such varied figures as House GOP Leader Jim Durkin and Sen. Sara Feigenholtz, D-Chicago: Reach out, personally. "It's about compromising and collaborating," Feigenholtz puts it.
That graduated real estate transfer tax issue could've been easily resolved had she simply recognized that the other side had enough votes to kill her plan and all she had to do was find a win. She went my way or the highway and it died. Her refusal to deal on the elected school board likely led to the firefighters pension bill, and her elected board counter-proposal was ridiculous. Subscribers know more about another challenge she faces these days.
* But despite all this, she apparently remains above water with the public. This poll was conducted by the same pollster I used last year and found to be pretty darned reliable…
The poll, which had a margin of error of 4.8%, also asked respondents how they rate Lightfoot's overall performance, with 53% saying they either strongly approved or somewhat approved of the job she's doing.

Lightfoot did best among respondents age 65 or older; 64% of them approved of the job she's done. And 70% of Black respondents approved of her performance.

According to the poll, 41% of Latinos surveyed and 50% of whites said they approved of her performance.
Remember, however, that she won her election with 73 percent of the vote. Also, you may notice there are no disapproval numbers in that story.
* I reached out and was able to get the crosstabs. Here are her topline results…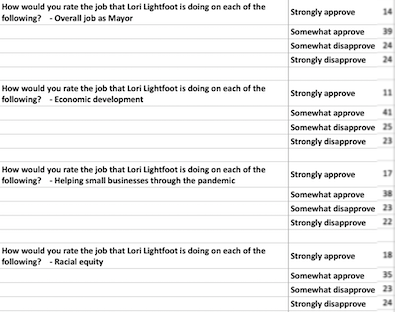 As you can see, she's at 14 percent strongly approve with all respondents versus 24 strongly disapprove.
The crosstabs show her underwater with Latinos 41-58. She's at 50-49 with whites, 70-30 with Black people, 44-56 with 18-34 year olds, 59-42 with 35-49 year olds, 54-47 with 50-64 year olds and 64-35 with 65+. Obviously, there's some rounding to those numbers over four different variables. Methodology is here.
There's another angle to this poll, so I'll try to get to that in a bit.
* Related…
* As Chicago Mayor Lori Lightfoot's two-year anniversary approaches, top-level vacancies are mounting: 'This has been a very tough year, I think, on a lot of people'

* Greater transparency would make Mayor Lightfoot's tough job a little easier

* Reform advocates oppose Lori Lypson's apparent nomination to run the Civilian Office of Police Accountability

* Chicago Mayor Lori Lightfoot Ran As An Outsider. Two Years In, Her Approach Hasn't Changed.

* Leaked Emails Reveal City Hall Failed To Keep Little Village Neighbors Updated On Hilco Work Despite Promise After Dust Disaster

* Lightfoot Canceled Her Chicago Tribune Subscription Over Reporting She Didn't Like, Leaked Emails Show

* A humble plea to Mayor Lori Lightfoot: Please resubscribe to the Chicago Tribune

* Alderman demands City Hall issue guidance on summer block parties
31 Comments




























































































Sorry, comments for this post are now closed.