* Press release…
Gary Rabine, a candidate for Governor, is calling for Illinois to join the list of a growing number of states opting out of the federal unemployment benefits.

"Small businesses have suffered long enough and now with their inability to find workers to fill their openings, they will suffer longer," Rabine said. "It is very important that we stop the unemployment stimulus now and get our kids back to school in Illinois."

The National Federation of Independent Business reported that 44% of small businesses said they can't find workers to fill job openings. The unemployment bonus is scheduled to expire in September, but by that time the most productive months of Illinois small business will be gone.

"The Biden administration, who our Governor Pritzker is aligned with on almost everything, said there is little evidence that the unemployment stimulus is dissuading people from taking jobs," Rabine said. "They blamed closed schools and daycare centers, saying many parents have to stay home to take care of children. The Biden administration is wrong, the unemployment bonus is dissuading people from working. Any worker who can make more on unemployment owes it to themselves and their families to consider staying home."

At least nine states, including Missouri and Iowa, are opting out of the benefit later this summer. Iowa Governor Kim Reynolds said in a statement: "Federal pandemic-related unemployment benefit programs initially provided displaced Iowans with crucial assistance when the pandemic began. But now that our businesses and schools have reopened, these payments are discouraging people from returning to work."

Businesses have 8.1 million jobs to fill and yet in April, the economy only added a paltry 266,000 jobs suggesting the federal unemployment benefits are keeping workers out of the workplace. Rabine said he is hearing from Illinois employers with concerns about their ability to fill open positions.

"As I travel this state, I see 'Help Wanted' signs everywhere and when I talk to the business owners, I hear the same thing – they can't fill the jobs," Rabine said. "I don't blame workers for choosing unemployment benefits over going to a job. It makes total sense to get the same pay or in some cases higher pay staying home than dealing with going to work every day. I don't blame anyone for making a logical decision, but at the same time we need healthy, able-bodied workers to return to the workforce. We need to follow the lead of Missouri and Iowa and opt out of the federal unemployment benefits. Job growth is the only path forward for a full economic recovery and we can't have that if our workers aren't working."

Rabine said Biden is right that many parents feel they must stay home with their children who are not in school and we can't blame good parents for this. The Rabine plan is to:

1. Stop the unemployment stimulus bonuses
2. Get Illinois' public schools open 100%
3. Lower, not raise, taxes

"If we do these things, Illinoisans will want to get back to work and small businesses will have the opportunity to serve their customers again at maximum productivity with millions of career opportunities," Rabine said. "We need to stop the printing presses, get back to school and back to work!"
* I was on break when Rabine announced his candidacy in late March. Sun-Times story…
"Fifteen years ago in Illinois, we really were the best place in the middle of the country to create jobs and start a business, to grow a business. But over the last 15 years, that's deteriorated to being the worst," he told the Sun-Times in an interview between events Tuesday.

He dismisses Democratic Gov. J.B. Pritzker as a "trust fund billionaire" who doesn't have the right business experience to lead the state.

"I don't have any knowledge of him ever building a business from the ground up. I mean, he calls himself an entrepreneur, but I've not witnessed real entrepreneurship there," he said of Pritzker. "Buying and selling companies for profit is a little different from … building a paving business here in Illinois and creating a national platform for paving parking lots."

Rabine criticized Pritzker's handling of the COVID-19 crisis, saying that "a total shutdown may not have been necessary" last March.
Fifteen years ago, Rod Blagojevich was running for his second term in office. Just sayin…
* Daily Herald…
Rabine, a Bull Valley resident, said he will avoid the partisan paralysis the state saw with Rauner by bringing an open mind and steady communication to working with the legislature, rather than relying on executive orders as Rabine said Pritzker has done in his response to the COVID-19 pandemic.

"I believe that I get stronger when I surround myself with people who think differently," Rabine said. "Because my passion is to understand all sides of the coin, I'm confident that I'll be able to reach across better than most anybody I've seen."

Rabine said he thinks the legislature will continue to evolve from the one involved in the budget impasse under the Rauner administration after being freed from the grip of former Illinois House Speaker Michael Madigan.

By 2022, the "financial crisis" in Illinois will have reached a breaking point where bipartisan cooperation will be necessary, and unavoidable, he said.
FY22 isn't looking too horribly bad, actually.
Asked by a reporter if he believed, as Trump has falsely stated, that the election was stolen due to fraud, Rabine said, "I'm not smart enough to understand what was the end result, whether it was stolen or not, and I would never say that." […]

Rabine is an advisory board member of Turning Point USA, the controversial conservative youth group founded by Illinoisan Charlie Kirk. Rabine has called Kirk one of his heroes. Kirk, who has come under fire for spreading disinformation about the pandemic, was one of the first users of the term "China virus." The Washington Post reported that during last year's election season his organization funded a deceptive social media campaign aimed at influencing young people. […]

[Rabine] pledged he would "never shut down our economy and ruin thousands of businesses as J.B. Pritzker has." […]

Rabine pledged a 50% cut in property taxes by 2024. Asked earlier how he would substantially cut property taxes, which primarily fund schools, without hurting education, Rabine offered no details but said he had an "economic team" working on a plan.
Yeah, get back to us on that property tax cut.
* He's also been active on LinkedIn…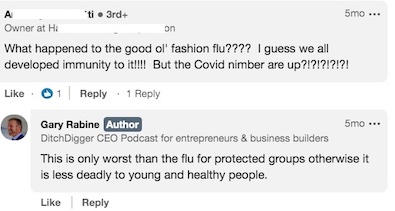 28 Comments



















































































Sorry, comments for this post are now closed.