* From April of 2018…
An Illinois man has brought a class action lawsuit against Illinois Gov. Bruce Rauner's campaign committee, alleging the committee violated federal telephone consumer protection law by making "pernicious" and unsolicited robocalls to state residents' cellular phones, urging them to vote for Rauner.

Peter Garvey filed suit March 23 in Cook County Circuit Court against Citizens for Rauner Inc., alleging the organization breached the federal Telephone Consumer Protection Act. The suit was filed on Garvey's behalf by Chicago lawyer John Sawin. […]

According to Garvey, a typical message from March this year stated:

Hi, this is Bruce Rauner. I'm callin' to ask for your vote in Tuesday's primary election. Illinois is worth fightin' for and with real reform, together we can bring back Illinois and provide the future our children deserve. Please join me in the fight against Mike Madigan and his special interest allies. I'm askin' for your vote on Tuesday, March 20.
I dunno about you, but that robocall script triggered my PTSD.
* Some folks I know are gettin' this mailer…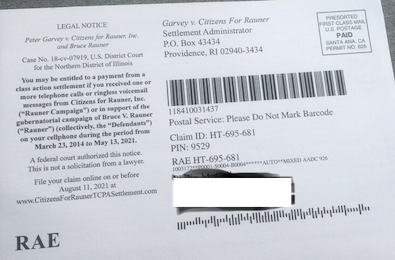 * From the law firm…
What can I get from the settlement?

The settlement will provide a total of $1,000,000 (the "Settlement Fund") to fully settle and release the Class Members' claims against the Rauner Campaign and Rauner. If you received a telephone call, text message or ringless voicemail message from the Rauner Campaign or Rauner and you fit the definition of the Settlement Class, as defined below, then you can choose whether to participate in the settlement.

The Court presiding over the lawsuit must still decide whether to approve the settlement. Settlement payments will be made only if the Court approves the settlement, and after any appeals are resolved. Please be patient.
* From the class action settlement agreement and release…
On or about March 23, 2018, Named Plaintiff filed a complaint against the Rauner Campaign in the Circuit Court of Cook County, Illinois, Chancery Division, Case No. 2018 CH 03859, alleging that the Rauner Campaign violated the Telephone Consumer Protection Act by making calls and delivering ringless voicemail messages to cellular telephones. On or about October 22, 2018, Rauner Campaign filed a third-party complaint against Victory Phones LLC and The Stratics Group Inc. relating to the alleged calls at issue. On or about November 30, 2018, The Stratics Group Inc. filed a Notice of Removal to the United States District Court for the Northern District of Illinois, where the Action remained pending. […]

Defendants deny all claims asserted in the Action and deny all allegations of wrongdoing and liability. Defendants desire to settle the Action on the terms set forth herein solely for the purpose of avoiding the burden, expense, risk and uncertainty of continuing these proceedings. […]

Subject to preliminary approval and final approval by the Court as required by Rule 23 of the Federal Rules of Civil Procedure, and subject to the remaining provisions herein, the Parties desire a full, complete, and final settlement and resolution of all existing disputes and claims as set forth herein, and to fully, finally and forever resolve, discharge and release the claims (as set forth herein) of Named Plaintiff and the Settlement Class Members, in exchange for Defendants' agreement to jointly pay the total amount of one million U.S. dollars ($1,000,000), inclusive of Settlement Costs and Settlement Awards as explained and set forth below. […]

With no consideration given or received, Plaintiff has agreed to limit the request for an award of reasonable attorneys' fees, costs, and expenses to no more than 33.333% of the Settlement Fund, plus reimbursement of reasonable litigation costs and expenses.
Citizens for Rauner is still active and reported having $533K in its account at the end of the last quarter. It has reported no expenditures to its legal defense firm Seyfarth Shaw.
16 Comments















































Sorry, comments for this post are now closed.