* Press release…
On Friday, U.S. Representative Rodney Davis (R-IL) visited the Prairie State Energy Campus, toured their power plant and mine, and spoke with employees about their careers and the benefits the company provides to the state and local economy.

"The municipally-owned Prairie State power plant is the cleanest coal-fired powered plant in the nation and one of the most efficient, and it creates hundreds of good-paying jobs, including union jobs, for our state," said Rep. Davis. "The company is actively pursuing and adopting additional carbon sequestration and storage and emissions-reducing technologies, and they should receive support from state and federal agencies for their efforts. Our country needs more base load generating capacity from a broad array of sources, not less, particularly when we can use technology to reduce emissions."

"Prairie State, and CWLP like it, should be allowed to remain open, but Governor Pritzker is catering to the demands of left-wing environmentalists by advocating for their closure," Davis continued. "I challenge Governor Pritzker to make a trip to Prairie State, tour the power plant and mine, and talk directly to the men and women who work there like I did. The Governor should personally hear what the plant's closure would mean for the hundreds of hardworking, taxpaying Illinois families he wants to put out of work. State leaders must craft an energy bill that meets Illinois' energy needs without forcing the closure of vital plants like Prairie State and CWLP."
Attached pic…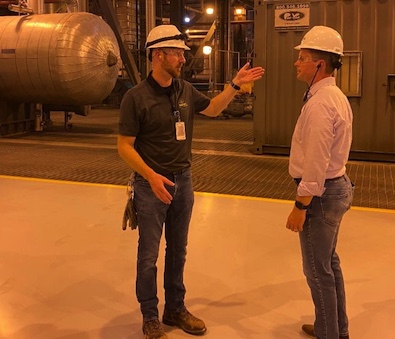 * Meanwhile, from Paul Schimpf…
Paul Schimpf, Republican candidate for Governor of Illinois, issued a statement this morning from the Monroe County jail along with Sheriffs Neil Rohlfing of Monroe County and Shannon Wolff of Randolph County in response to the failure of the Illinois Department of Corrections (DOC) to take custody of DOC prisoners as required under Executive Order 2020-50 issued on July 27, 2020.

Executive Order 2020-50 mandates the DOC to determine the scheduling of arrivals of inmates from county jails based on the several health and safety factors. It further ordered that the DOC work closely with county sheriffs to implement this process. At this time, inmates are not being regularly transferred from county jails to the DOC despite the fact that Illinois is finally in Stage 5 and those health and safety factors conditions have been met. Furthermore, the DOC has failed to compensate the individual counties for the state prisoners who are being held in county jails. Lastly, according to the President of the Illinois Sheriffs' Association, Sheriff Brian VanVickle of Ogle County, the DOC has failed to communicate with county sheriffs to solve this problem. In response to these conditions, Senator Schimpf stated:

"Once again, we are witnessing the 'Pritzker Leadership Deficit' as Governor Pritzker remains hands off when it comes to providing solutions to the problems caused by his unilateral shutdown of our state.

It is only by the strong leadership of our 102 sheriffs across Illinois that our communities and citizens remain safe from DOC prisoners even though they are not obligated to house them without recompense. Unfortunately, the taxpayers of each county are left to foot the bill despite the fact that the DOC budget has not been cut during the pandemic. This is simply unacceptable.

I call on Governor Pritzker to order the Director of the Illinois Department of Corrections to reopen and start transferring prisoners in a safe and regular fashion, to pay each county the DOC's arrears for housing prisoners, and pay counties the cost of housing those DOC inmates in the future."
Keep in mind that local governments are getting billions from the feds to deal with unexpected costs.
WGEM did a story on this topic and this is IDOC's response…
The Illinois Department of Corrections is committed to safely admitting as many men and women from the counties as possible. Intakes are scheduled based on space availability, quarantine requirements and COVID-19 test results. We have been accepting transfers from county jails since August 3, 2020 and have processed 7,975 new admissions and 1,206 turnarounds to date.
* And…
As your next Governor, I'll stand up for YOU, restore respect to law enforcement, and work to keep our communities safe for everyone. And I will always defend your individual rights and freedoms. #standingwithyouin2022 #baileyforillinois

— Darren Bailey for Governor (@DarrenBaileyIL) June 21, 2021
32 Comments































































































Sorry, comments for this post are now closed.