* Moody's…
Moody's Investors Service has upgraded the State of Illinois's general obligation (GO) rating to Baa2 from Baa3. In connection with this action, ratings on Build Illinois sales tax revenue bonds were upgraded to Baa2 from Baa3, and annual appropriation bonds issued by the Metropolitan Pier and Exposition Authority Ratings were upgraded to Baa3 from Ba1. Total debt affected amounts to about $33 billion, including $27.7 billion of general obligation bonds, $3 billion of Metropolitan Pier and Exposition Authority bonds, and $1.9 billion of Build Illinois bonds. The outlook remains stable.

RATINGS RATIONALE

The upgrade of Illinois' GO rating to Baa2 from Baa3 is supported by material improvement in the state's finances. The enacted fiscal 2022 budget for the state increases pension contributions, repays emergency Federal Reserve borrowings and keeps a backlog of bills in check with only constrained use of federal aid from the American Rescue Plan Act. Illinois still faces longer-term challenges from unusually large unfunded pension liabilities, which are routinely shortchanged under the state's funding statute. These liabilities could exert growing pressure as the impact of federal support dissipates, barring significant revenue increases or other fiscal changes.
* Press release…
Governor JB Pritzker hailed the state's improved bond rating from Moody's Investor Service on Tuesday, the first such rating upgrade from a credit rating agency in more than 20 years. Since taking office, Gov. Pritzker has tirelessly focused on strong and responsible fiscal management, working with the General Assembly to hold the line on spending while making key investments to strengthen Illinois' outlook.

Moody's last upgraded the state's bonds in June of 1998 and today's upgrade credited "material improvements," with only "constrained use of federal aid," including increased pension payments, repayment of federal borrowing and keeping the bill backlog in check.

"I promised to restore fiscal stability to Illinois, and Moody's ratings upgrade demonstrates that Illinois' finances are heading in the right direction for the first time in two decades. A ratings upgrade pays momentous dividends for taxpayers, and the people of Illinois deserve credit for their incredible resilience and determination," said Governor JB Pritzker. "This upgrade is the result of many leaders working together on a strong fiscal plan and putting that plan in place, and I would like to especially thank Speaker Welch, President Harmon, Leader Greg Harris, Senator Sims, Comptroller Mendoza and Treasurer Frerichs for their partnership. I also applaud Moody's for answering our request to take a fresh look at the State and their willingness to listen to our progress and our plans."

Moody's upgraded Illinois' rating on its General Obligation bonds from Baa3 with a stable outlook to Baa2 with a stable outlook, and also upgraded the Metropolitan Pier and Exposition Authority ratings to Baa3 from Ba1 based on the state's support. Build Illinois bonds were upgraded to Baa2 from Baa3.
* Some recent history…
On June 1, 2017, Standard and Poor's Global Inc. and Moody's Investors Service, credit rating agencies, downgraded Illinois' credit rating. S&P also said that it might downgrade the state's credit rating further if the state failed to adopt a budget. The downgrade placed the state's credit rating at one step above a junk rating (a low rating which indicates the state is a high risk investment). At the time of the downgrade, the state had not passed a budget in two years due to disagreements between the Democratic state legislature and Republican Governor Bruce Rauner. According to S&P analyst Gabriel Petek, "the rating actions largely reflect the severe deterioration of Illinois' fiscal condition, a byproduct of its stalemated budget negotiations, now approaching the start of a third fiscal year." Prior to this downgrade, Illinois' credit rating was the lowest in the country. If downgraded again, Illinois would become the first state to receive a junk rating from a credit agency.
…Adding… Daily public schedule update…
What: Gov. Pritzker to address Moody's upgrade of the state's bond rating, the first rating upgrade from a credit rating agency in more than 20 years.
Where: Illinois State Capitol, Governor's Office, Springfield
When: 4 p.m.
Watch live: https://www.Illinois.gov/LiveVideo
…Adding… Speaker Welch…
There's consensus—not only have all three rating agencies upgraded our state's outlook, but now Moody's has given Illinois a full credit upgrade. Thanks to responsible and balanced budgets, as well as sound economic policy decisions, we continue to move our state toward financial stability. This is yet another example that we can support all Illinois families, invest in our communities, provide high-quality state services to those in need, all while improving our fiscal health.
…Adding… Historical chart…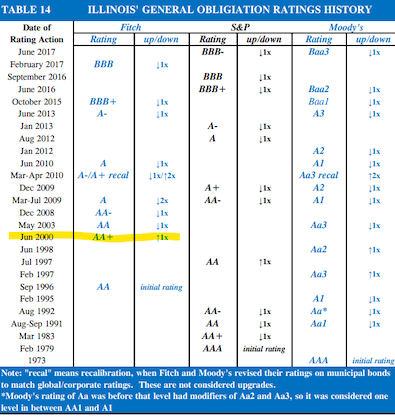 …Adding… Comptroller Mendoza…
"I couldn't be happier that our hard work is producing results: the first rating upgrade for Illinois in two decades from Moody's Investor Services," Illinois Comptroller Susana A. Mendoza said. "This means lower costs for Illinois taxpayers. As you have seen in recent months, even in the middle of a global pandemic, my administration has successfully paid down a backlog of bills that just four years ago hit $16.7 billion — down to $2.9 billion today — and did so while prioritizing the most vulnerable people in our state.

"As your state Comptroller, I vowed to stay laser-focused on paying down the backlog of bills and earning a credit upgrade. Governor Pritzker, leaders of the General Assembly and I all agreed to use better-than-expected revenues this year to pay down bills and we did not over-commit the federal stimulus funds which – it should be noted here – have not yet arrived and are not the reason we were able to pay down these bills."

As Moody's said in its announcement today that it was raising the state's status to Baa2 from Baa3, "The enacted fiscal 2022 budget for the state increases pension contributions, repays emergency Federal Reserve borrowings and keeps a backlog of bills in check with only constrained use of federal aid from the American Rescue Plan Act."
…Adding… Senate President Harmon…
Stability and responsibility produce results. You don't need to ruin people's lives to have sound fiscal policies and positive outcomes.

I want to thank Governor Pritzker and Speaker Welch for their teamwork in helping us find a better way forward.
…Adding… Senate GOP Leader McConchie…
"The change is encouraging but claiming victory with federal money is misleading the people of our state," said Illinois Senate Republican Leader Dan McConchie (R-Hawthorn Woods).

"Like someone trying to hide a hole in the wall by covering it with wallpaper, the governor and Democratic majorities are trying to 'paper over' the state's ongoing systemic budgetary and economic issues. For example, we still have over $140 billion in unfunded liabilities for the five state retirement systems. The Chicago pension system is still projected to run out of money in six years. Meanwhile, state pension payments continue to consume a quarter of Illinois' operating budget, which is billions of dollars that can't be used to fund schools, increase public safety, or improve our transportation systems.

"Illinoisans deserve systemic, structural changes to our long-standing issues - not lies about our financial status. The truth is, that without the influx of federal aid, our state would very likely be looking at yet another credit downgrade.

"When the federal money dries up, as it will, the governor and his party will no longer be able to pretend that there's no hole in the wall.

"Today is a positive step, but there will come a day when the governor and his party run out of other people's money. Unfortunately for the people of Illinois, that day is coming sooner, rather than later."


Click here to help buy presents for LSSI foster kids!
34 Comments





































































































Sorry, comments for this post are now closed.