* The nation's trajectory in one image…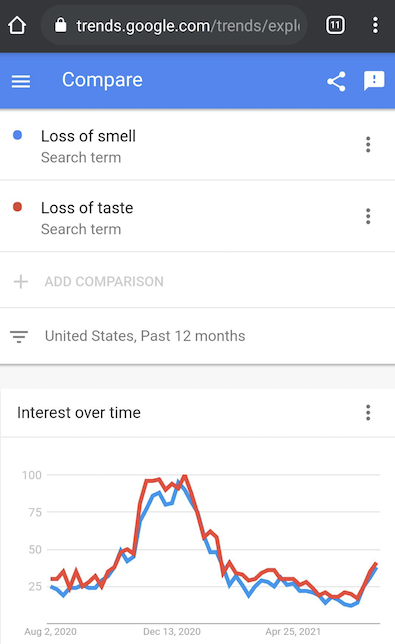 * AP…
The U.S. Department of Veterans Affairs. The state of California. New York City. Hospitals and nursing homes. Colleges and universities. Employers are putting COVID-19 vaccine mandates into place and it's getting attention. […]

Federal legal guidance out this week suggests the law is on the side of employers. Vaccination can be considered a "condition of employment," akin to a job qualification.

That said, employment lawyers believe many businesses will want to meet hesitant workers half-way.
* Mandates move numbers much more than incentives…
People who say they would be more likely to get vaccinated if they got $100 cash: 14%

People who say they would be more likely to get vaccinated if it was required to fly: 41% pic.twitter.com/7rLl0nWmFy

— Ken Klippenstein (@kenklippenstein) August 1, 2021
* I expect business leaders are heading that direction. Another shutdown would be devastating. Here's Mark Cuban…
"Sick employees not only put their peers at risk, they miss work days. Which impacts productivity, which impacts profitability, which impacts the number of people who have jobs at the organization.

"Sick people also impact health-care and insurance costs, which are already incredibly expensive.

"Public health organizations can work together to quantify the impact of non-vaccinated employees, contractors and even vendors on an employer and their employees. That could lead more employers to require vaccinations to keep jobs. To not offer insurance or increase deductibles for the un-vaxxed or on the other side, offer raises or better perks to employees who have been vaxxed.

"At the companies I operate, I am requiring vaccination as a term of employment. I don't want one employee putting the health of another at risk simply by doing their job."
I don't think you can legally withhold insurance from people if you offer it to others.
* Illinois…
New cases of COVID-19 came to 5,608 over the weekend with 11 more people dying from the respiratory disease, the Illinois Department of Public Health reported Monday.

From Friday through Sunday, 79,040 more COVID-19 shots were administered. The seven-day average is 27,396. […]

The state's positivity rate for COVID-19 cases is 4.3% based on a seven-day average, reflecting a continued rise.
* More Illinois…
Masks now will be required in all state facilities, regardless of a person's COVID-19 vaccination status.

The decision was announced Thursday and aligns with recommendations from the Centers for Disease Control and Prevention. The CDC this week issued guidance that masks should be worn by anyone in an area where there is a substantial or high risk of transmission of the coronavirus and its variants.

The state will continue to evaluate the need for additional mitigations and Gov. J.B. Pritzker said he will not hesitate to put them in place as needed to protect the health of residents.

"Vaccines work — but we cannot promise those protections for every single future variant if we allow this virus to spread and mutate unchecked in our communities," Pritzker said. "With all the misinformation out there, I encourage all eligible Illinoisans who haven't been vaccinated yet to talk to their doctors to alleviate any of their fears. Vaccines are how we put this pandemic behind us for once and for all, but I will continue to evaluate the need for further additional mitigations."
* Also…
Masks will be required at driver's license facilities in Illinois starting Monday, Secretary of State Jesse White announced Wednesday
* Onward…
Hours after Lollapalooza got underway Thursday, Cook County was added to the Centers for Disease Control and Prevention's list of areas experiencing "substantial" COVID-19 transmission.

Citing that development, Illinois Gov. J.B. Pritzker later Thursday announced a new mask requirement for everyone in state-run facilities, including those who are vaccinated, starting immediately.

Cook now joins DuPage, McHenry and Will counties in the Chicago area, and 80 others statewide, in meeting the threshold where masks are recommended for everyone indoors, regardless of vaccination status.
* Chicago…
Everyone in Chicago, regardless of their vaccination status should wear a mask indoors, Chicago health officials recommended Friday after the Centers for Disease Control and Prevention added Chicago to its list of areas experiencing "substantial" transmission of the coronavirus.

However, the recommendation announced by Chicago Public Health Commissioner Dr. Allison Arwady stops short of reimposing the city's mask mandate even as confirmed cases of COVID-19 are surging across the country because of the delta variant, and new data suggests the virus can now be spread by fully vaccinated people.

"This isn't forever, but it is necessary to help decrease the risk for all Chicagoans right now," Arwady said in a statement.
* Also…
While a mask recommendation for public indoor spaces regardless of vaccination status only recently returned for the city of Chicago, mask mandates for public transit under federal guidelines have never gone away.
* Other stuff…
* The Anti-vaccine Con Job Is Becoming Untenable - Why targets of deliberate deception often hesitate to admit they've been deceived: The seminal text in the field—Erving Goffman's 1952 essay "On Cooling the Mark Out"—observes that all targets of con artists eventually come to understand that they have been defrauded, yet they almost never complain or report the crime to authorities. Why? Because, Goffman argues, admitting that one has been conned is so deeply shameful that marks experience it as a kind of social death.

* With new vaccine and mask requirements, businesses scramble to respond to delta variant and shifting health guidance

* Chicago clinics serving low-income patients mandate COVID-19 vaccines for employees, following lead of big hospitals

* The NFL has incentivized getting the COVID vaccine — so why is a vocal minority still so hesitant?

* DuPage and McHenry counties now under indoor-masking-for-all guidance as COVID-19 spread deemed 'substantial' by CDC

* Who is Joseph Mercola? 5 things about the doctor called a COVID-19 misinformation 'superspreader' — from Chicago roots to bizarre battles with government regulators
35 Comments








































































































Sorry, comments for this post are now closed.