* Tribune…
Chicago grew by about 50,000 residents over the last decade, according to 2020 U.S. Census data released Thursday.

The decennial population count put Chicago's total at 2,746,388 residents — a 1.9% increase over the 2010 total. The Chicago number was revealed during a Washington news conference. More detailed county and regional data is expected later Thursday.

Chicago's gain in population is a stark contrast to the previous decade, when the the city lost 200,000 residents — a 6.9% decrease.
* Sun-Times…
Chicago remains the third largest city in the U.S. despite worries about population loss, according to data released Thursday by the U.S. Census Bureau. […]

But Illinois lost population from 2010 to 2020, according to the data, mostly in the southern and western part of the state.
* Click the pic for a better view if you need it of Chicago's historical demographic trend from Frank Calabrese…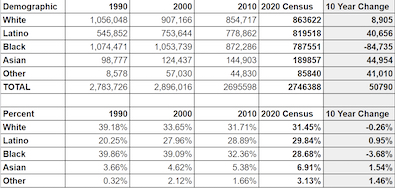 Interesting stuff there. This post will likely be updated.
…Adding… Cook is up beyond the Chicago increase…
Cook County gains 1.6% - in numerical terms, 80,866 people. https://t.co/z2xUlha1lt

— Paris Schutz (@paschutz) August 12, 2021
…Adding… More on Cook County from Frank Calabrese…
White: 2,135,243 (40%)
Latino: 1,382,778 (26%)
Black: 1,185,601 (22%)
Asian: 408,691 (8%)
…Adding… More from Frank…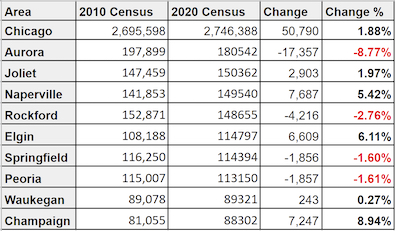 …Adding… Regional numbers…
Chicago region:
-Chicago: 2.7m in 2010 > 2.75m in 2020
-Evanston: 74k > 78k
-Joliet: 147k > 150k
-Aurora: 198k > 181k
-Naperville: 142k > 150k
-Kenosha: 99k > 100k
-Waukegan: 89k > 89k
-Cicero: 84k > 85k
-Arlington Hghts: 75k > 78k
-Bolingbrook: 73k > 74k

— Yonah Freemark (@yfreemark) August 12, 2021
…Adding… More Calabrese…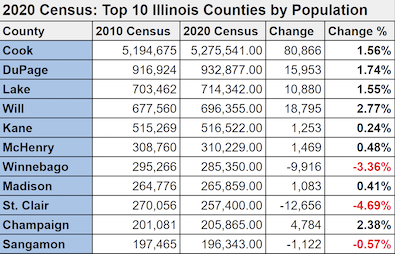 * More…
* Census shows US is diversifying, white population shrinking
32 Comments































































































Sorry, comments for this post are now closed.