* WIFR TV ran a completely one-sided story that offered no context or quotes from local hospital officials or references to the CDC…
Twenty-nine schools across the state are on probation for not complying with Governor J.B. Pritzker's mask mandate and one of them is right here in Winnebago County.

Durand school district has decided to go against the mask mandate and risk losing several key resources like funding and the opportunity to participate in IHSA sports. It also means graduating seniors won't receive a credible diploma.

"We're just exploring all our avenues here," said Kurt Alberstett, Durand schools superintendent.

Alberstett says the district is standing firm with it's decision to leave masking up to the parents even though the Illinois State Board of Education has placed the school on probation. […]

"Being that my kids are athletes, I don't think that that's fair for the kids," said Christiana Ekberg. "I also don't think that it's fair that they have to wear a mask while playing sports either because it's very difficult when you are running up and down a basketball court trying to keep a mask on your face. They start off as the mask on, and then it goes under their nose, and then it becomes chin guards and we see that all too often happening."
Reporters need to get the heck off Facebook. Social media is not reality. Provide some newsy balance to the online insanity, for crying out loud. Also, the sports parents made the biggest stink last year, and they appear to be doing it this year as well.
* Also, too, the number is up to 32…
ISBE has placed a total of 32 school districts on probation so far, but some schools have already taken steps to reverse their mask policy course in order to be taken off the state's probation list.
* Tribune…
Kyle Thompson, regional superintendent of the Charleston-based Regional Office of Education #11, which covers several counties including Clark, Edgar and Shelby, said in a Wednesday email that he is seeing "districts all over the map — followed, haven't followed, probation, not yet on probation."

"I know a handful received emails (from ISBE) requesting a response within 24 hours, while others have yet to receive that email," Thompson said. "To be honest, I am not sure how ISBE is tracking it so fast."
That isn't much of a mystery. Outraged parents are undoubtedly notifying the state board, because some are also notifying people like me. Plus, I assume the ISBE is monitoring local news coverage.
* There was a little school mask protest at ISBE yesterday…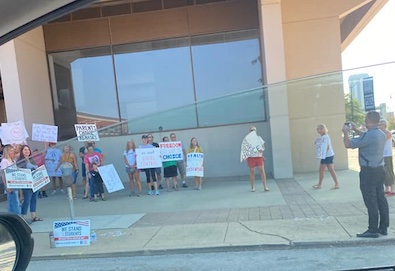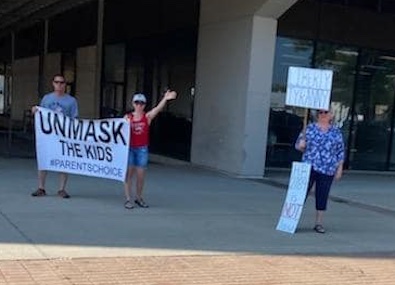 * Other news…
* Chicago Teachers Union has yet to reach agreement with CPS as start of school looms; district says CTU 'is rejecting science for their own gain'

* Parents Are Losing Their Minds Over Masks in Schools

* University Of Illinois President On Why Students Must Be Vaccinated To Attend Fall Semester

* Soaring COVID-19 numbers, low vaccination rates leave Menard County officials 'frustrated'

* Why A Hard-Sell Pitch For COVID Vaccines Won't Work In This Rural Illinois Town

* Republican lawmakers challenge ISBE's enforcement of school mask mandate
24 Comments







































































Sorry, comments for this post are now closed.