*** UPDATE 1 *** Press release…
The Illinois Department of Public Health (IDPH) today reported 24,682 new confirmed and probable cases of coronavirus disease (COVID-19) in Illinois, including 126 additional deaths since reporting last Friday, August 13, 2021. More than 77% of Illinois adults have received at least one COVID-19 vaccine dose and more than 60% of Illinois adults are fully vaccinated, according to data from the Centers for Disease Control and Prevention.

Currently, IDPH is reporting a total of 1,482,369 cases, including 23,717 deaths, in 102 counties in Illinois. The age of cases ranges from younger than one to older than 100 years. Since reporting on Friday, August 13, 2021, laboratories have reported 462,916 specimens for a total of 28,072,697. As of last night, 2,000 individuals in Illinois were reported to be in the hospital with COVID-19. Of those, 468 patients were in the ICU and 234 patients with COVID-19 were on ventilators.

The preliminary seven-day statewide positivity for cases as a percent of total test from August 13-19, 2021 is 5.3%. The preliminary seven-day statewide test positivity from August 13-19, 2021 is 6.1%. However, regional 7-day test positivity averages range from 4.2% to 10.4%. http://www.dph.illinois.gov/regionmetrics?regionID=11.

A total of 13,745,822 vaccines have been administered in Illinois as of last midnight. The seven-day rolling average of vaccines administered daily is 33,564 doses. Since reporting on Friday, August 13, 2021, 234,949 doses were reported administered in Illinois.

*All data are provisional and will change. Additional information and COVID-19 data can be found at http://www.dph.illinois.gov/covid19.

Vaccination is the key to ending this pandemic. To find a COVID-19 vaccination location near you, go to www.vaccines.gov.
For perspective, the spring spike peaked at 2,288 hospitalizations on April 19.
*** UPDATE 2 *** I know Nancy Werden and she's a conscientious person who did the right things and stuff still went wrong…
Staunton, Illinois schools shut down after one week because of COVID-19 spread

After opening for one week of classes, schools in Staunton, Illinois, moved to virtual learning Thursday due to an increase in cases of COVID-19, district officials said.

The first day of school in the Macoupin County district was Aug. 11.

Staunton schools will reopen Aug. 30 for anyone not under a quarantine order, reads a message from Nancy Werden, interim superintendent.
Gonna be rough for a while. Get your shots, people.
…Adding… This guy, man…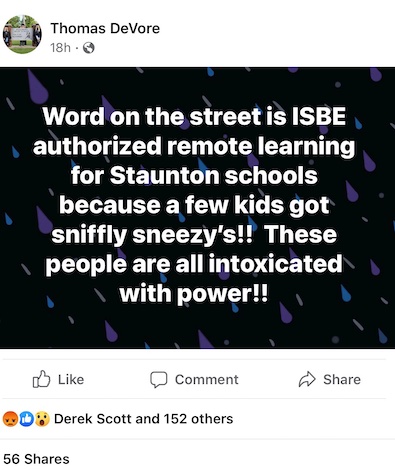 * Mary Ann Ahern peppered the governor with mask mandate questions at this morning's media availability…
MAA: Where do you stand on a statewide mask mandate as the city of Chicago puts theirs in place today? Certainly there are a high number of counties with a high transmission.

JBP: Well, as you know, I have not been reticent to act when I think it's appropriate to do so on mitigations. And we're always considering every day what next we need to do. I applaud the city of Chicago and taking proactive efforts here. I encourage other local governments, whether they be cities or townships or counties, to also take proactive steps and we will look at the state level, whether that's an appropriate thing at some moment. And again, every day I'm looking at these numbers and talking to Dr. Ezike.

MAA: But what else would it take? It's almost [garbled] political governor, now.

JBP: No, you would like to say that. This is not political. This is every day, [crosstalk]. As you know, listen, if it was political, we wouldn't have any mitigations. It would be much easier not to have mitigations. [Crosstalk] The truth, the truth of the matter is that I have acted, every time I have believed and the doctors have advised me that we need to put mitigations in place, we have done it. And so I'm not reticent to do that. We know now that we have vaccines available, and masks work. People should follow the science. If you wear a mask and you get vaccinated, you're pretty safe. And I hope that everybody will do that and I will take action, if we see that the numbers can move up in an exponential fashion, which they're not there, But in an exponential fashion, that's something that we'll look very closely at. And again, I talk every day or text or have communication with Dr. Ezike or with her senior staff to try to determine what we need to do on any given day. Also to be helpful, I'll just add this to the hospitals, especially in Southern Illinois. And in areas where there are a limited number of ICU beds that are yet still available, how we can provide more staffing, how we can provide support for those hospitals. […]

MAA: If you can't give us the metric on the masks, it makes folks think, wow, the city of Chicago has to wear a mask but boy if you go out to, you know, I don't know, pick a town in the suburbs, you don't have to.

JBP: It's always been the case, Mary Ann that local communities and cities have decisions that they can make that are more stringent on mitigations than what the state, that's always been the case. And there have been moments throughout the last year and a half that you've seen, not just the city of Chicago, but other places that have taken proactive actions that they believe would work in their communities. So I encourage those local community leaders to do so. Indeed, I have celebrated those people throughout the last year and a half, because very few, frankly, local leaders, very few elected leaders have been willing to stand up and make tough decisions for their communities. I mean, it's about time for some of them, but I want to congratulate folks who actually already do that.
Please pardon all transcription errors.
…Adding… MAA's story…
Illinois Gov. J.B. Pritzker on Friday declined to give a specific metric at which the state might impose another indoor masking mandate, leaving the door open for further mitigations but deferring to local authorities to take action, even as he called the current COVID-19 surge fueled by the delta variant a "very dangerous moment."
* Crain's…
The Archdiocese of Chicago this week announced that all employees and clergy will be required to get vaccinated against COVID-19. While people will have an opportunity to request a medical exemption, religious objections will not be considered.

The Archdiocese of Chicago and its agencies, including Catholic Charities and Misericordia, join a growing list of organizations mandating COVID-19 shots for workers and patrons as the delta variant surges.

"We have made this decision convinced that this is the best way to stop the spread of this deadly illness," Cardinal Blase J. Cupich, archbishop of Chicago, said in a Thursday email to clergy and staff. "Following the lead of Pope Francis, we encourage everyone to be vaccinated as an act of charity. … Religious exemptions to vaccination cannot be supported by Catholic teaching and I have instructed our pastors not to grant them." [Emphasis added.]
Cupich claims that more than 90 percent of staff and clergy are already vaccinated.
* More…
* Editorial: Americans need a better vaccination ID than a flimsy piece of paper

* CTU negotiations with CPS over COVID-19 precautions drag with start of school year days away

* Why the NEA Refuses to Support Vaccine Mandates

* Three private schools in the suburbs punished for defiance on masks

* Some McHenry County families have started home schooling because of COVID-19 mask mandate

* Long-term care facilities are using the pandemic as a shield, even in lawsuits unrelated to covid-19

* COVID-19 in Southern Illinois: Additional deaths reported in Johnson, Massac, and Pulaski Counties on Thursday
24 Comments







































































Sorry, comments for this post are now closed.