* Center Square…
Illinois Republican Party Chairman Don Tracy said Thursday during Republican Day at the Illinois State Fair that the Democratic Party in Illinois is making the state "woke and weak" and the state is falling behind many states run by Republican governors. He called Gov. J.B. Pritzker a "king."

One of his main goals was plastered on campaign signs throughout the GOP event.

"You wanna know what my biggest priority is in 2022, if you haven't guessed, look at the banner, let's fire Pritzker," Tracy said.
* SJ-R…
As expected, Illinois Republicans spent the majority of their Thursday rally at the Illinois State Fair attacking Gov. JB Pritzker, a Democrat, with the rally's emcee resorting to criticism of Pritzker's weight.

Though the rally didn't feature any of the three Republican candidates confirmed to be running for governor, Grand Old Party lawmakers and committee members attacked the governor during their Republicans Day rally for his executive orders during the ongoing COVID-19 pandemic, among other issues.

Republicans also called on Pritzker to veto a controversial ethics bill passed by the Illinois General Assembly this spring that Republicans have argued does not do enough to address corruption in state politics. […]

"Illinois Republicans have more enthusiasm than I've seen at this state fair in a very long time," said U.S. Rep. Rodney Davis, R-Taylorville, beckoning to the couple hundred attendees at the Director's Lawn. "And I want (the media) to report on it, too."
Just saying that meant Davis got his desired reporting into the SJ-R and elsewhere. But the quote didn't really match the reality. Most folks were far away from the stage and talking amongst themselves throughout the program. The few folks up front were beaten down by the sun, heat and humidity and were relatively sedate as a result. It wasn't much different than the previous day's Democratic rally…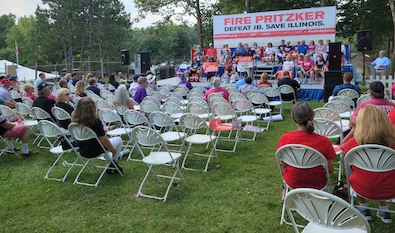 * Capitol News Illinois…
"I've spent a lot of time in blue states this year and I like what I've seen," RNC Co-Chairman Tommy Hicks, of Texas, said at the rally. "I've been in the state of Washington, Maine, New Hampshire, Vermont, Connecticut, New Jersey and now Illinois. Every event is packed. The excitement is real. And the enthusiasm is firmly on the Republican side."
* Brenden Moore…
But throughout the day, which began with a joint meeting of the Illinois GOP State Central Committee and Illinois Republican County Chairs Association in downtown Springfield before the festivities moved to the fairgrounds in the afternoon, it was clear that internal divisions remain between conservatives and moderates on how the party wins back the voters it needs to win statewide again. […]

[Kirk Dillard], the chairman of the Chicago Regional Transportation Authority, said he's "not looking to run for governor," but has been approached by some business leaders about the prospect.

"If the election were held today, I think JB Pritzker would win against the current field," Dillard said, speaking with reporters after the rally. "But it's early, and I'm here as an observer just to see what what these candidates are like, but I worry that the Republicans, if they run somebody, they'll run somebody that's unelectable. And you'll want to win the general election and govern when you get there."

Some of these concerns were on display Thursday, with Bailey, a supporter of former President Donald Trump, refusing to say whether President Joe Biden legally won the 2020 election.
* Amanda Vinicky…
U.S. Rep. Darin LaHood of the Peoria-area laid out his vision for what would happen in Washington if the White House and Congress were in GOP hands:

Ban race theory, implement patriotic education to teach children to "love American," continue building a wall at the Southern U.S. border and hire 100,000 police officers "to support law and order."

"And we have an obligation to go after big tech," he said. 'How ironic is it that the leader of the Taliban has a Twitter account and President Trump doesn't? Absolutely irresponsible to let these tech companies continue what they're doing."
Local control for masks, but Orwellian federal teaching mandates on history and social studies classes. Gotcha.
* Back to CNI…
Among them is Paul Schimpf, a former GOP state senator from Waterloo who is one of the three announced Republican candidates for governor. He was the Republican nominee for attorney general in 2014.

Speaking to reporters at an event earlier in the day, Schimpf recalled his 2016 Illinois Senate race against former Democratic Lt. Gov. Sheila Simon.

"We won that race by almost 22 points, and the reason we won that race is because we talked about the issues that unite us," he said. "And we also ran a campaign where it wasn't toxic. The people of Illinois are tired, really, of toxic politics I think at this point."
* Hannah Meisel…
Many speeches Thursday criticized Pritzker's latest mask mandate for schools, implemented earlier this month after COVID's more transmissible Delta variant set off an uptick in new cases and hospitalizations in Illinois, and has also filled up hospitals and children's ICU beds in other states. Appeals to the crowd steered clear of vaccine talk, but earlier in the day, the candidates addressed that issue with reporters.

Schimpf is the only candidate who has gotten his COVID shots, though he said he isn't in favor of government mandates for the vaccine. Bailey refused to say whether he is vaccinated, incorrectly claiming HIPAA laws protect him from having to answer. Earlier this summer, he told a closed-door crowd of Republicans he was not vaccinated.

Rabine repeated falsehoods about the vaccine killing "thousands of people" and contended that because he already had COVID, he believed getting the vaccine would weaken his natural immunity, which is not true.

"The CDC can say what they want," Rabine replied when told the Centers for Disease Control has advised the opposite. "I listen to scientists all over the world…We shouldn't demand a vaccine in anybody, in my opinion. It's my body. It's my choice."
* Tribune…
"This is a do-or-die election," GOP Co-chair Mark Shaw of Lake County said of the 2022 races. "You can't beat somebody with nobody on the ballot. We have to have candidates everywhere up and down the ballot for everything from governor to dogcatcher."

While seeking to recapture areas where it once dominated, the state GOP is burdened by candidates who take hard-right stands on issues that have divided the state and nation. Republican candidates for governor include hopefuls who won't say if they think Biden legally defeated President Donald Trump, won't reveal their COVID-19 vaccination status and won't back down from repeating misinformation that the vaccine has caused deaths.

The misinformation on COVID-19 carried over to Illinois history on Thursday. Shaw touted Republican events at the upcoming DuQuoin State Fair and referred to the Southern Illinois town as "a former state capitol of Illinois." Kaskaskia, Vandalia and Springfield, but not DuQuoin, have served as Illinois' seat of government.
There was a time in this state when a geography flub like that would be news.
* Rachel Hinton…
Others addressing the party at the hotel included state Rep. Tom Demmer, a Dixon Republican who said he's still "exploring" a run for Illinois secretary of state, and state Rep. Dan Brady of Bloomington, who may also seek the party's nomination to succeed outgoing Democrat Jesse White.

Republicans who've said they want a shot at the top of the ticket include Bobby Piton, a portfolio manager who bills himself as a "Conservative Patriot committed to preserving our Freedom and Republic," and Allison Salinas, whose Facebook page says she stands up "for the unborn, backing our 2nd Amendment and standing up for our law enforcement agencies."

Others include Peggy Hubbard, a Navy veteran and former police officer, and Tim Arview, who bills himself as a "conservative Republican" on his Facebook page.
20 Comments



























































Sorry, comments for this post are now closed.