* Tribune…
This month, an average of more than 30 Illinois children a day have been admitted to hospitals with confirmed or suspected COVID-19, with the rolling seven-day average reaching 40 admissions last Wednesday. A year ago at this time, average daily admissions were around 20 in early August before peaking at 35. […]

Still, the increase in childhood hospitalizations in Illinois is far less severe than in states where some pediatric wards are filling up fast. In Florida, for example, admissions are running roughly triple what they were last August, at one point approaching 100 confirmed or suspected childhood cases a day, on average.
Florida's population is 70 percent larger than ours, so we've got a little ways to go before getting that bad. And it could, especially with this attitude…
Last week we delivered nearly 45,000 petitions to Pritzker's office to demand he rescinds his unilateral mask mandate on our schools. I'm delivering YOUR voice.

Posted by Darren Bailey for Governor on Tuesday, August 24, 2021
Hardin County CUSD #1 has closed for the remainder of the week.

The school announced that over 25% of the school called in absent Tuesday.

Superintendant Andy Edmondson did not disclose what prompted the closure, but said "we need to focus on getting our students healthy."

"I want to apologize for the short notice and the inconvenience this will bring, but the health of our students is our top priority," Edmondson added.
* From the governor's office last night…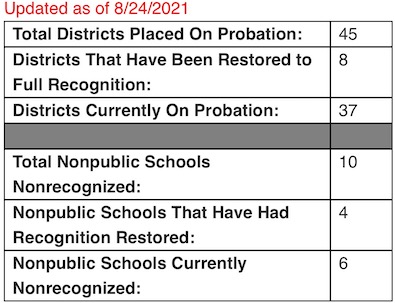 * Daily Herald…
Of three suburban private schools that had their recognition status pulled by the Illinois State Board of Education last week after officials said they flouted a COVID-19 mask mandate, just one has been reinstated.

Bethany Lutheran School in Naperville and Lutheran School of St. Luke in Itasca remained on ISBE's list of sanctioned schools as of Tuesday, the agency reported.
* CBS 2…
COVID-19 isn't the only problem schools are facing as students head back to schools. There's also a teacher shortage.

The superintendent of LaSalle-Peru High School said the pandemic has accelerated a teacher shortage years in the making.

Nearly a third of educators say the pandemic has led them to plan on leaving teaching earlier than expected.
* AP…
Most epidemiologists say they still believe that in-person school can be conducted safely, and that it's important considering the academic, social and emotional damage to students since the pandemic slammed into American schools in March 2020.

In some cases, experts say, the reversals reflect a careless approach among districts that acted as if the pandemic were basically over.

"People should realize it's not over. It's a real problem, a real public health issue," said Dr. Tina Tan, a Northwestern University medical professor who chairs the American Academy of Pediatrics Section on Infectious Diseases. "You have to do everything to prevent the spread of COVID in the school."

Tan and others say that means not just masks in schools but a push for vaccination, social distancing, ventilation and other precautions, providing multiple layers of protection.
* IDES press release…
The Illinois Department of Employment Security (IDES) announced today that it will begin the phased restoration of in-person workforce and limited unemployment services at American Job Centers throughout the state on an appointment-only basis starting Thursday, August 26. In-person appointments will be available at the following locations as part of the first phase of the plan:

Rockford | 303 North Main Street
Harvey | 16845 South Halsted
Champaign | 1307 North Mattis Avenue
Mt. Vernon | 333 Potomac Boulevard, Suite E

To schedule an appointment, individuals should call via the IDES Scheduling Hotline at 217.558.0401 and request a callback. Appointments must be scheduled a minimum of 24 hours in advance of the appointment time. An appointment may be scheduled for one of the following reasons:

Identity verification for an unemployment insurance claim
Assistance registering with IllinoisJobLink.com
Assistance documenting work search activities
Employment services, including resume and job search guidance
Request to use the Resource Room to use computers with internet and other resources

Appointments will be available Monday through Friday between 8:30am and 5:00pm. To ensure efficiency, each appointment will be 20 minutes in length and visitors will be afforded a 10-minute grace period. Visitors who schedule an appointment must bring a photo ID and any other documentation required for the appointment. A scheduled appointment is required for entrance into one of the offices. Individuals who arrive at an office without an appointment will be asked to schedule an appointment via the Scheduling Hotline for a later date.

Masks or face coverings are required when entering an office. If a visitor has been experiencing any symptoms or has been exposed to someone with COVID-19 within 14 days prior to their appointment, they will be required to reschedule the appointment.

In the coming weeks, IDES will continue to reopen additional offices on a phased basis and will announce the availability of phone appointments to further assist claimants.

Claimants are strongly encouraged to use the IDES website to apply and certify for benefits, enroll in direct deposit, change passwords, engage in work search, and connect with an employment services professional, among other services. Claimants can also continue to speak with an IDES expert over the phone, by requesting a callback at 800.244.5631. As a reminder, if a callback is received at an inconvenient time, claimants may reschedule the callback for a specific time with a call center agent.
* More…
16 Comments















































Sorry, comments for this post are now closed.